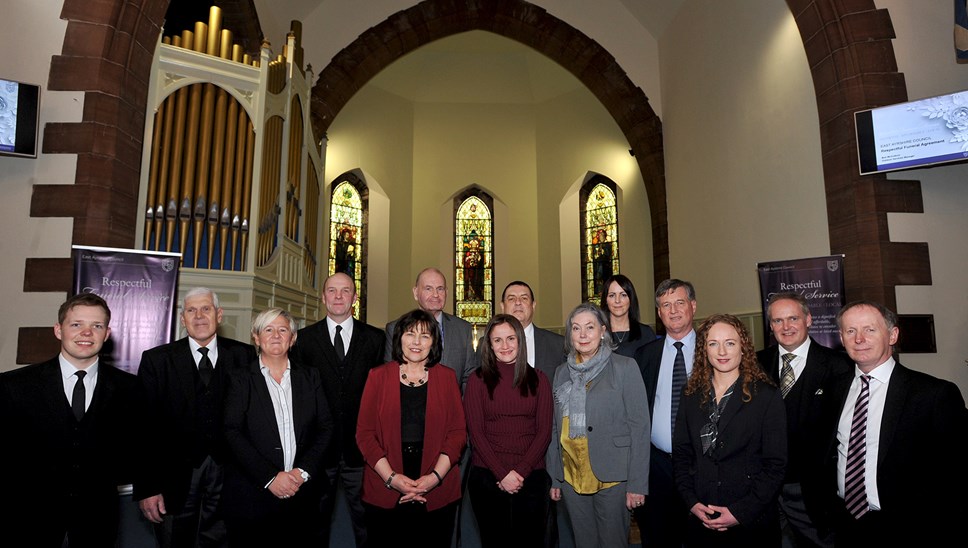 Respectful Funeral Service – one year on
Just over a year ago, East Ayrshire Council launched an innovative new partnership with three highly respected local funeral directors.
The Respectful Funeral Service was created and developed by our Bereavement Services team. They recognised that the people of East Ayrshire, like the people of Scotland as a whole faced a new challenge – funeral poverty.
By entering into a partnership with Alexander Muir Funeral Directors, Cumnock and Mauchline Funeral Directors and ML Williams Funeral Directors, the team created a dignified and respectful funeral package that offered significant savings on the Scottish average.
Councillor Douglas Reid, Leader of the Council said: "In just one short year, the Respectful Funeral Service has been recognised nationally, taking a Gold Award at the Improvement Social Enterprise (iESE) Public Transformation Awards. Local authorities from across the UK have also approached the team, keen to learn from our innovative approach to tackling funeral poverty.
"We entered into this partnership hoping that we would make a difference to the lives of our residents. We wanted to support our communities during the hardest times and I feel like we have succeeded.
""In the first year of the scheme East Ayrshire residents, who have booked a Respectful Funeral Service, have saved a total of £169,330 based on the average cost of a burial, as shown in the Royal London and Citizen Advice Scotland reports. "This is quite remarkable and I hope that the scheme will see even greater savings for our residents over the next year."
More information about a Respectful Funeral Service is available from the Council's website or you can call 01563 554775.
https://www.east-ayrshire.gov.uk/CouncilAndGovernment/BirthMarriageAndDeath/Deaths/Deaths-funerals-and-bereavement.aspx
ENDS