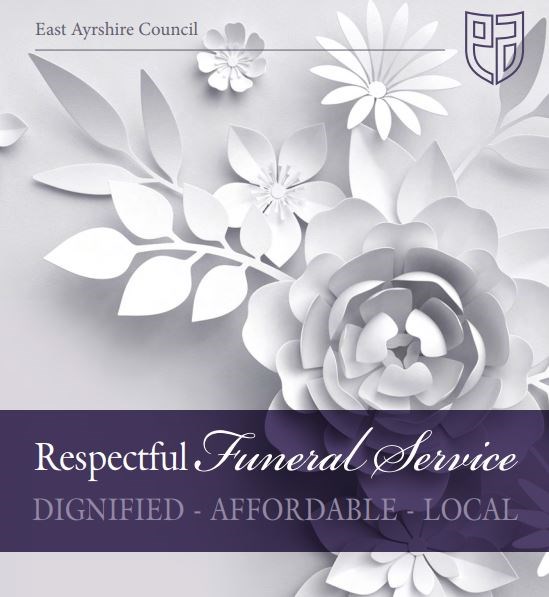 Respectful Funeral Service wins COSLA award
East Ayrshire's Respectful Funeral Service has been named best in Scotland for Service Innovation and Improvement at the COSLA Awards.
The 2018 COSLA Excellence Awards recognised eight local authorities for outstanding quality service to the public.
The Respectful Funeral Service, created and developed by the Council's Bereavement Services team, launched in 2017. The team recognised that the people of East Ayrshire, like the people of Scotland as a whole faced a new challenge – funeral poverty.
They entered into a partnership with Alexander Muir Funeral Directors, Fosters Funeral Directors, and ML Williams Funeral Directors, and created a dignified and respectful funeral package that offers significant savings on the Scottish average.
Councillor Elena Whitham, Depute Leader and Cabinet Member for Housing and Communities said: "I am absolutely delighted that Respectful Funerals have been recognised by COSLA in the Service Innovation and Improvement category.
"Every Council in the UK faces increasing budgetary constraint coupled with increasing need, and it's our job to face this challenge by transforming our services to best meet the demands of our communities in the most efficient and practical manner possible.
"We're particularly proud of the Respectful Funeral Service, which leads the way in Scotland, pulling together both the public and private sector and setting a new standard to ensure that bereavement services can be dignified, professional and affordable.
"In the first year of the scheme East Ayrshire residents, who booked a Respectful Funeral Service, saved a total of £169, 330 based on the average cost of a burial. This is quite remarkable and I am sure that the scheme will see even greater savings for our residents during its second year."
COSLA President Councillor Alison Evison said: "These winners sum up with Scottish Local Government is all about – innovation and joined up services, delivered by passionate staff that are changing lives every day.
"We have witnessed some incredible projects, and their results are already being felt across the country.
"Above all, I've been struck by the sheer determination to work with communities to meet their needs and to set new standards of excellence, whatever the challenges.
"The COSLA Excellence Awards are helping to build on real life success stories like these and share their learning. Where these projects are leading, others will follow, and all those who took part should be very proud indeed."