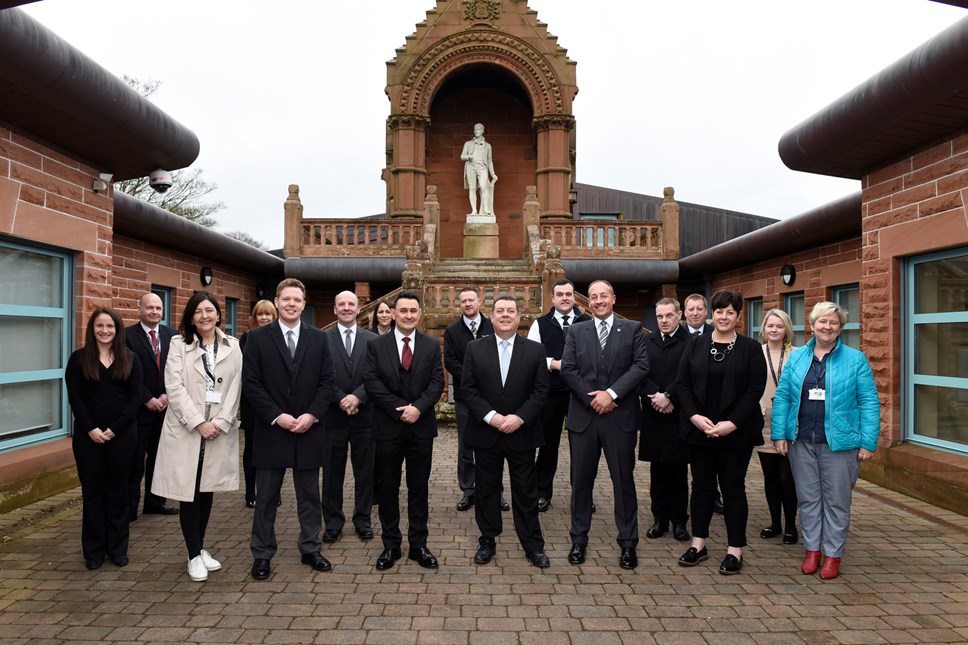 Respectful Funerals welcome new partnerships
East Ayrshire Council has entered into a partnership with six highly respected local funeral directors who will be offering Respectful Funerals to East Ayrshire residents.
Just two years ago, the Council's award winning Bereavement Services team launched Respectful Funerals, a new and innovative partnership, with Alexander Muir, Fosters and ML Williams Funeral Directors. The number of funeral directors involved in the scheme has doubled, providing our residents with a greater choice of dignified and respectful funeral services each with significant savings on the Scottish average.
Councillor Douglas Reid, Leader of the Council said: "The Respectful Funeral Service was created and developed by our Bereavement Services team. They recognised that the people of East Ayrshire, like the people of Scotland as a whole faced a new challenge – funeral poverty.
"The team, with their funeral director partners, created a dignified and respectful funeral package that offered significant savings on the Scottish average and in just two short years have doubled the number of funeral directors involved in the scheme.
"We entered into this partnership hoping that we would make a difference to the lives of our residents and provide support to our communities during the hardest of times."
The Council's Respectful Funeral partners are:
Alexander Muir Funeral Directors
9 Mossmark, New Cumnock, KA18 4NF
185 Main Street, Auchinleck, KA18 2BA
2 Montgomery Place, Kilmarnock, KA3 1JB
Balmoral Funeral Directors
208 Western Road, Kilmarnock, KA3 1NJ
17 Barrhill Road, Cumnock, KA18 1DB
Barry Whalen Funeral Directors
27 Dalvennan Avenue, Patna, KA6 7NA
Fosters Funeral Directors
107 Glaisnock Street, Cumnock, KA18 1JP
96-106 Portland Street, Kilmarnock, KA3 1AA
Wilson and Drury Funeral Services
38 Cameron Drive, New Farm, Kilmarnock, KA3 7PW
11 Kilmarnock Road, Mauchline, KA5 5DB
34 Main Street, Muirkirk, KA18 3RA
Councillor Elena Whitham, Cabinet Member for Housing and Communities said: "In the two years of the scheme East Ayrshire residents, who have booked a Respectful Funeral Service, have saved a total of £281,638 based on the average cost of a burial, as shown in the Royal London and Citizen Advice Scotland reports.
"This is quite remarkable and I hope that now the scheme has grown in size and reach to include six local funeral directors our residents will see even greater savings.
"We're particularly proud of the Respectful Funeral Service, which leads the way in Scotland, pulling together both the public and private sector and setting a new standard, that is being adopted by Dundee City Council, to ensure that bereavement services can be dignified, professional and affordable."
More information about a Respectful Funeral Service is available from the Council's website or you can call 01563 554775.