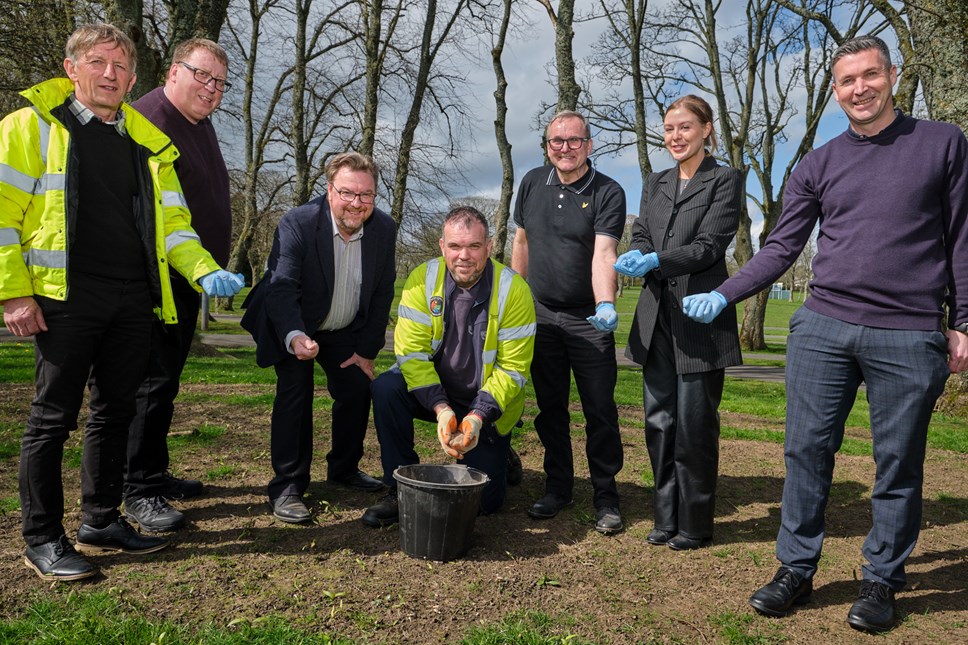 Rewilding plans are set to bloom
Teams from Greener Communities will be working across East Ayrshire in the coming weeks sowing wildflowers to improve biodiversity and help tackle the climate emergency.
Rewilding has an important role to play in tackling the climate emergency. It helps wildlife to recover and with flourishing habitats, lost wildlife will be able to return. It is also about thinking differently about the way we manage our green spaces, recognising that our future is connected to living creatures that include important pollinators like ladybirds, butterflies and bees.
The Greener Communities team will be sowing wildflowers in specially selected areas and signs will be placed in these spots to advise that sowing has taken place and that machinery will not be used.
Councillor Graham Barton, Spokesperson for Children and Young People, Net Zero, Environment, Climate Change and Equalities and Inclusion was joined by Councillor Jim McMahon, Spokesperson for Housing, Welfare and Poverty, Social Care, Mental Wellbeing and Addiction and Recovery at Kay Park, Kilmarnock to talk to the team from Greener Communities about their rewilding plans.
Councillor Graham Barton said: "The environmental benefits of rewilding our green spaces can't be underestimated. By reducing the number of cuts per season and not using machinery on certain areas, we are ensuring that wildflowers have an opportunity to grow and that pollinators like bees, butterflies and ladybirds are also protected.
"It was great to talk to Nick Kelly and his team about their plans for rewilding. They are extremely knowledgeable and committed to making East Ayrshire look great, but also protecting the environment and encouraging biodiversity within our beautiful green spaces. The team will be working across East Ayrshire on their rewilding programme and will be erecting signs to advise that they won't be using machinery where wild flowers have been planted.
"We have the opportunity to be the first generation to leave the natural world in a better, not poorer state. I believe that we can all rise to this challenge and do our bit to support our local environment. If you have a bit of garden where there isn't much colour, you could lift the grass and plant wild flowers. Wild flowers like low nutrient soil so don't worry about feeding the ground and don't worry about buying fancy seeds, you can pick up seeds at your local supermarket or garden centre.
"The flowers will become established in a couple of years and all going well will begin to self-pollinate. Getting out in the garden is good for your mental health and rewilding doesn't need a huge investment of your time but will make a huge impact on the environment."
Councillor Jim McMahon said: "It was great to meet the Greener Communities team and discuss their plans for rewilding areas within East Ayrshire. Robert Pinkerton and Roddy Hood are very experienced and have worked hard to identify areas that would really benefit from rewilding. Within the Kay Park, a number of areas have been identified for rewilding and I was pleased to help the team sow poppy and cornflower seeds. This planting will make a huge difference to the local wildlife but will also support the trees in the area too, making them more stable.
"Robert has been working with members of the Greener Communities team to plot the identified rewilding areas on an online map and we are hoping this will be available on the Council's website in the next few months.
"The team at Greener Communities have also been working with local community groups to introduce wildflowers on the green spaces entering a number of villages across East Ayrshire. Evidence shows bold strips of wildflowers on roadsides really make a difference to local communities and local biodiversity so if your community is interested in rewilding and sowing wildflowers please contact Greener Communities by email outdoor.amenities@east-ayrshire.gov.uk to find out more."
Biodiversity and nature-based solutions are critical to achieving net zero actions by 2045. Under the Nature Conservation (Scotland) Act 2004, all public bodies in Scotland must further the conservation of biodiversity when carrying out their functions and responsibilities.
The Council recognises that rewilding will not be possible in every area of East Ayrshire. A measured approach will be required as to where grass is left to grow and the Council will work to ensure that a collective view is taken from our communities as to where this is appropriate.
This annual process will guide how Greener Communities will link to rewilding and environmental areas of work including current initiatives like No Mow May, where some areas are cut while others are left to grow or have reduced cutting programmes.