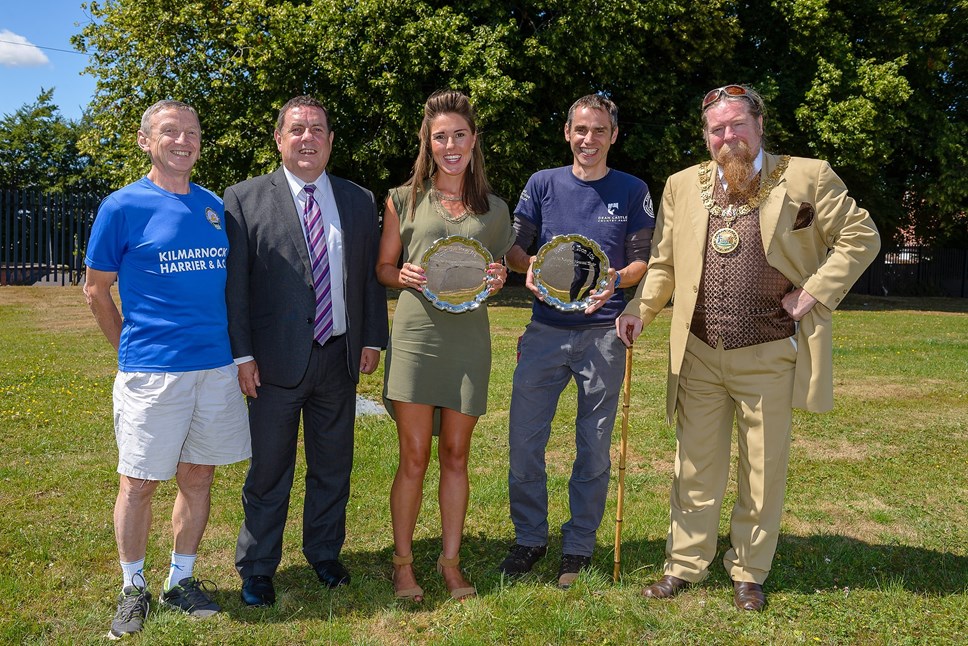 Roon the Toon Jim Buchanan Memorial Trophy
The Roon the Toon Jim Buchanan Memorial trophy has been presented to the fastest East Ayrshire Council and East Ayrshire Leisure male and female employees at a special presentation.
Howie Pitman, Countryside Ranger from East Ayrshire Leisure, was first over the line in a time of 39:18, while Gillian Todd, Principal Teacher from Annanhill Primary, was first female in a time of 47:06.
The race between the male runners was incredibly close. Despite the heat, the top two men managed sub 40:00 with last year's winner Colin Fulton finishing less than a second behind Howie.
And there was less than two minutes between the top three women who all put in an incredible race.
The Kilmarnock Harriers donated the trophies and the prize money was donated by Councillor Buchanan's widow Jan, in memory of her husband who had been a driving force behind Roon the Toon.
Provost Jim Todd and Councillor Douglas Reid, Leader of the Council with Ian Gebbie from the Kilmarnock Harriers presented Howie and Gillian with their trophies.
Provost Todd said: "It was a real privilege to present the Jim Buchanan Memorial Trophy to Howie and Gillian. Jim passed away in October 2016 after a short illness and we all still feel his loss.
"Jim shared the vision the Kilmarnock Harriers had to raise the profile of the town through sport. He could see the benefit of attracting thousands of people to the area and the positive impact that this would have on East Ayrshire.
"It is absolutely fitting that the Jim Buchanan Memorial Trophy was presented to our fastest employees. Jim valued all of our employees very highly and it is right that his memory lives on, not just in the built environment around us, but as a man with a vision for East Ayrshire."