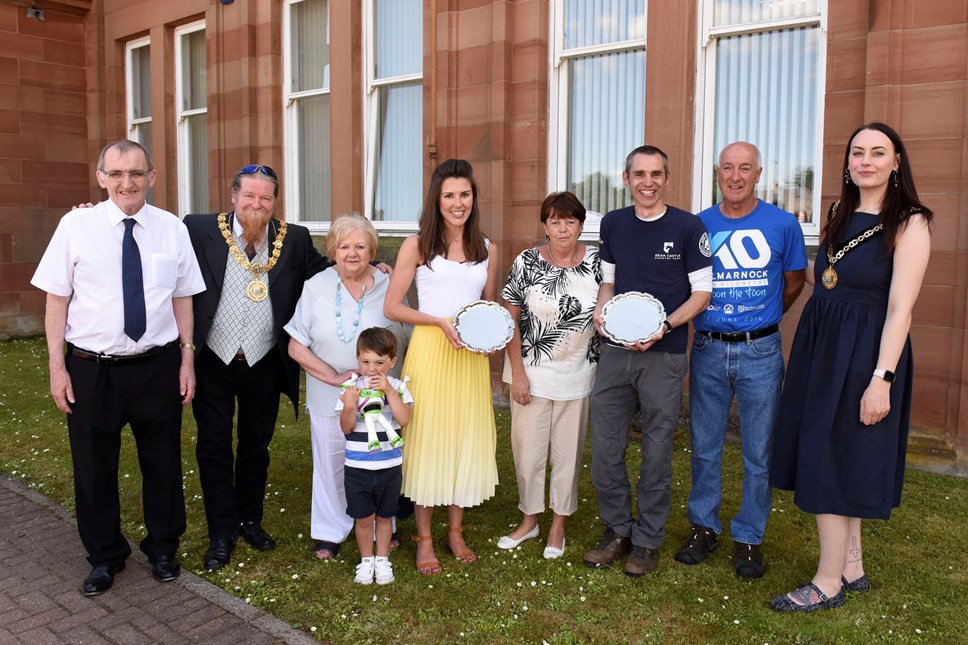 Roon the Toon Jim Buchanan Memorial Trophy
The Roon the Toon Jim Buchanan Memorial trophy has been presented to the fastest East Ayrshire Council and East Ayrshire Leisure male and female employees at a special presentation.
Howie Pitman, Countryside Ranger from East Ayrshire Leisure, retained his fastest title with a time of 39:03, while Gillian Todd, Principal Teacher from Annanhill Primary, also retained her fastest title in a time of 45:36 beating her previous winning time by two minutes.
The Kilmarnock Harriers donated the trophies and the prize money was donated by Councillor Buchanan's widow Jan, in memory of her husband who had been a driving force behind Roon the Toon.
Provost Jim Todd, Depute Provost Claire Leitch, Councillor John Campbell, Jan Buchanan and Matt Dodds from the Kilmarnock Harriers presented Howie and Gillian with their trophies and prize money.
Provost Todd said: "It was a real privilege for Jan and I to present the Jim Buchanan Memorial Trophy to Howie and Gillian again this year. It clearly meant a lot to them both to retain their trophies.
"Jim shared the vision the Kilmarnock Harriers had to raise the profile of the town through sport. He could see the benefit of attracting thousands of people to the area and the positive impact that this would have on East Ayrshire. It is absolutely fitting that the Jim Buchanan Memorial Trophy is presented annually to our fastest employees."
The Provost and Depute Provost, with Adam Strain from Vibrant Communities and Matt Dodds, also presented the first ever prize for fastest school to representatives from Stewarton Academy.
Parents David Mitchell and Elaine Smith collected the £500 prize, donated by Vibrant Communities, on behalf of the school.
Stewarton Academy's team had 17 runners that consisted of teachers, parents and pupils. They put in some impressive sub 40 minute times and it seems that their best runners weren't even taking part this year, so that's the gauntlet officially down for next year's Roon the Toon.