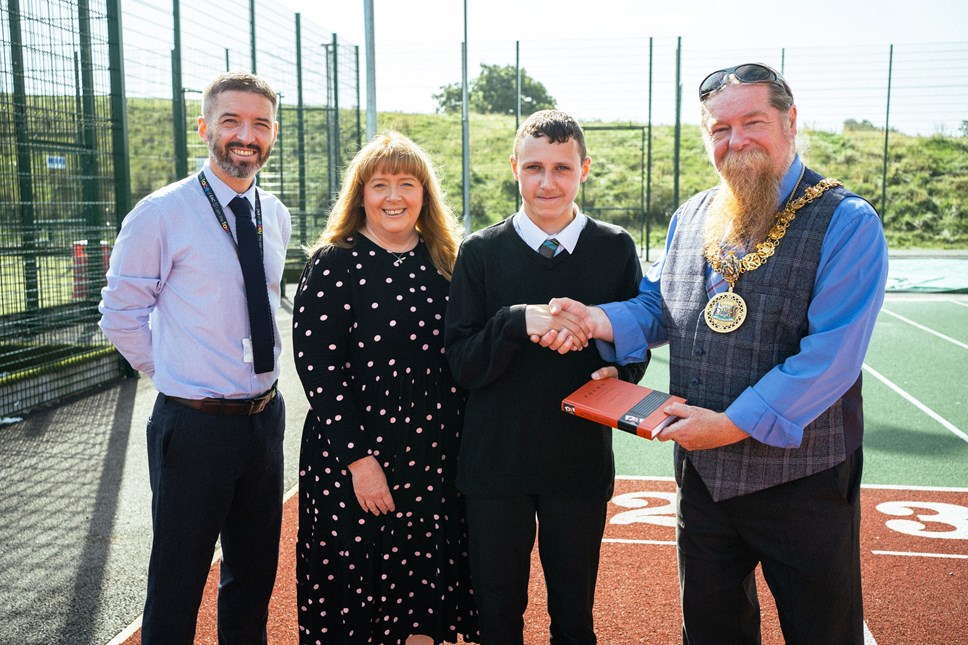 S3 pupil from Stewarton Academy is a Taekwondo World Champion!
Gregor C from S3 at Stewarton Academy attended the Taekwondo International World Championships in Coventry in July and came home - Individual Sparring Black Belt Middleweight World Champion!
Gregor, who has been in training for over eight years with James Reed Taekwondo at the Rose Reilly Centre in Stewarton; faced competitors from Germany, Ireland, England and Holland over five tough rounds. He showed skill and determination to lift the World Champion title.
2023 has been a very successful year for Gregor, he has taken Gold at the English, Scottish, Northern Ireland and Welsh Open Championships and just last week was invited to attend the phase one selection of the GB Olympic Development Pathway programme. An amazing opportunity to train at the Olympic training facilities, under the watchful eye of Olympians and their coaches.
Councillor Elaine Cowan, Spokesperson for Education, and Children and Young People, and Provost Jim Todd popped into Stewarton Academy to offer their congratulations. Cllr Cowan said: "Provost Todd and I were delighted to visit Stewarton Academy to offer our congratulations to Gregor and to his whole family, on his incredible achievements this year. I know that his school and the whole community are so proud to have a World Champion in their midst.
"It was also great to chat with Gregor and to hear his hopes for the Los Angeles Olympics in 2028. The Provost and I wished him all the luck in the world on his Taekwondo journey, wherever it takes him. We will be following his progress with interest!"