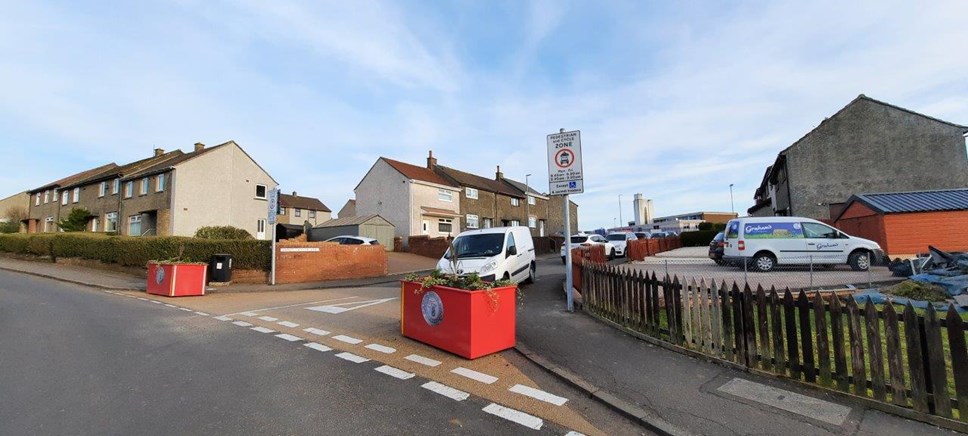 School Streets trials deemed a success
Results of a survey circulated to residents, parents of school children and the wider communities around Catrine and St Sophia's primary schools have shown that the majority of respondents support the School Streets initiative which has been trialled since April.
School Streets restrict vehicular traffic from roads around schools at the start and end of the school day with the aim of increasing the safety of vulnerable road users, particularly younger children, and encouraging active ways of travelling to school, such as walking, cycling or scooting.
In Catrine, there was overwhelming support for the scheme with 84% of respondents in favour of keeping it in place in the longer term. Respondents also recognised a number of benefits arising from the reduction in traffic volumes including a feeling of increased safety and community wellbeing.
Traffic speed and volume surveys carried out before the trial started and repeated during the third week of the trial found a substantial (up to 78%) reduction in traffic volumes and reported that vehicle speeds have not increased as a result.
At St Sophia's Primary in Galston, 60% of those responding supported the scheme remaining in place in the longer term. Traffic speed and volume surveys again found a substantial (up to 61%) reduction in traffic volumes with no increase in vehicle speeds.
As a result of these positive outcomes, both schemes will remain in place while the findings are presented to Council in August.
Councillor Jim McMahon, Cabinet Spokesperson for Community Safety, Roads and Transport, said: "We are extremely grateful to everyone who engaged with the projects and took the time to complete the survey. The feedback received will be extremely useful in determining the future of these schemes.
"My thanks go to local residents, parents and staff who have been supportive of what we're trying to achieve through this initiative which is ultimately to make the journey to and from school safer and healthier for our pupils."
ends
Notes to editors
The School Streets project was established after Ayrshire Roads Alliance successfully bid for Spaces for People funding from Sustrans. The funding enables temporary measures to be put in place to make social distancing easier for people who are walking and wheeling during the COVID-19 pandemic.
Residents in the streets affected around the two schools were issued with two permits per household for their vehicles and exemptions are in place for blue badge holders, school transport vehicles and other essential vehicles such as bin lorries.
Further information can be found at www.east-ayrshire.gov.uk/schoolstreets