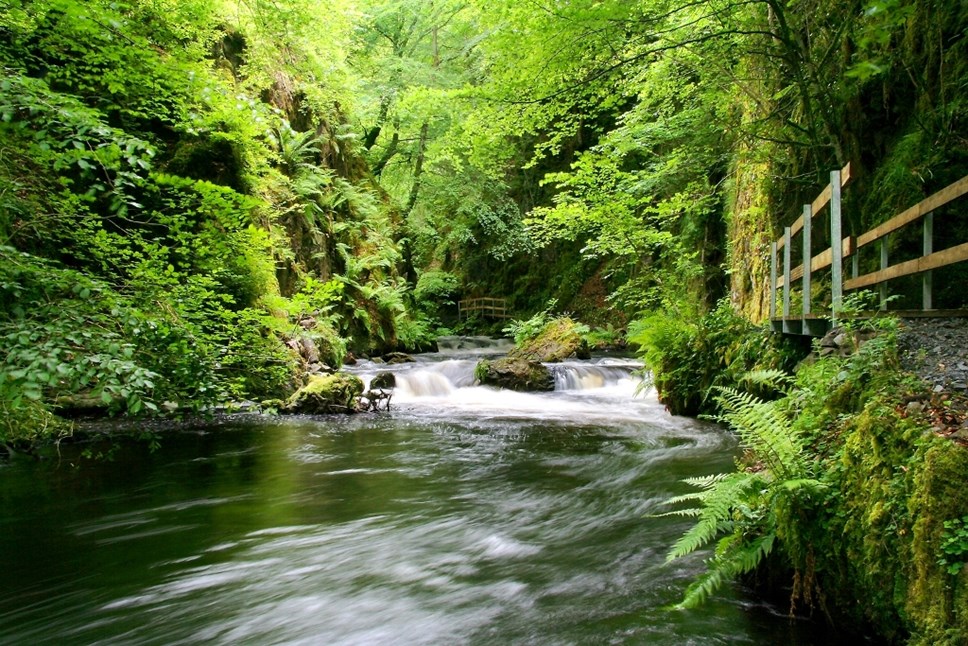 Scotland is Stunning – East Ayrshire backs Zero Waste Scotland campaign urging people to bin litter or take it home
Visitors to East Ayrshire are urged not to spoil it by littering when they're enjoying days out in our beautiful landscape.
Zero Waste Scotland has launched a new campaign: Scotland is Stunning – Let's Keep It That Way, which aims to inspire people getting out and about to enjoy the great outdoors without leaving litter, reminding them they should either bin litter or take it home.
The campaign, which highlights the beauty of Scotland's lochs and mountains, city parks and country woodlands, is backed by the Scottish Government and Keep Scotland Beautiful. East Ayrshire Council is backing the campaign with new specific digital assets and poster letting visitors know that East Ayrshire is Stunning – Let's Keep it that Way.
As lockdown eases, local businesses and the tourism industry in general across Scotland are counting on an increase in trade to support them through what are difficult economic times.
Councillor Jim McMahon, East Ayrshire Council's Cabinet Member for Older People and Community Safety said: "East Ayrshire's unspoilt scenery and parks play a vital role in encouraging people to enjoy our region and support businesses, but this can only happen if areas of beauty remain in their original pristine state.
"We are working hard with our partners, including Zero Waste Scotland and Police Scotland, to target environmental crime. The Council's Corporate Enforcement Unit is patrolling East Ayrshire, investigating and fining those caught littering and fly tipping and we have community groups working closely with our Outdoor Services team collecting litter and organising community clean ups. Together we want to stamp out environmental crime. We live in a beautiful rural area with wonderful tourism opportunities – let's keep it that way!"
As well as being an eyesore, dropping litter is a criminal offence. Discarded waste can also be a danger to young children and animals, and it is estimated that 80% of marine litter washing up on our beaches started out on land.
Iain Gulland, Zero Waste Scotland chief executive, said: "People are understandably keen to enjoy everything Scotland has to offer this summer, and onwards. If you are camping, exercising, having a barbecue or just enjoying the scenery, have fun, but remember to bin what you don't need or take it with you.
"I'm delighted East Ayrshire Council is getting involved in our campaign. Go home with happy memories and leave East Ayrshire litter-free so others can do the same. We know Scotland is stunning, let's keep it that way!"
For community groups and other local organisations keen to spread the message to daytrippers and staycationers to bin litter or take it home, a free downloadable campaign toolkit is available online including customisable digital tools and posters. Meanwhile, the campaign can be followed on social media using the hashtag #BinYourLitter
Barry Fisher, CEO of Keep Scotland Beautiful, added: "We welcome this new campaign highlighting the beauty of Scotland and all it has to offer. Litter levels across Scotland are unacceptable, and in many places are getting much worse. Alongside this campaign we will continue to offer support to all those who have already stepped up to tackle this problem in their own communities with litter clean ups and projects to improve and protect the places they care about."
To download the campaign toolkit, or for further information, please visit www.managingourwaste.scot/litter
Notes to editors
About Zero Waste Scotland
Zero Waste Scotland exists to lead Scotland to use products and resources responsibly, focusing on where we can have the greatest impact on climate change.
Using evidence and insight, our goal is to inform policy, and motivate individuals and businesses to embrace the environmental, economic, and social benefits of a circular economy.
We are a not-for-profit environmental organisation, funded by the Scottish Government and European Regional Development Fund.
More information on all Zero Waste Scotland's programmes can be found at https://www.zerowastescotland.org.uk/ . You can also keep up to date with the latest from Zero Waste Scotland via our social media channels - Twitter | Facebook | LinkedIn
The Scottish Government is the Managing Authority for the European Structural Funds 2014-20 Programme. For further information visit our website or follow @scotgovESIF.