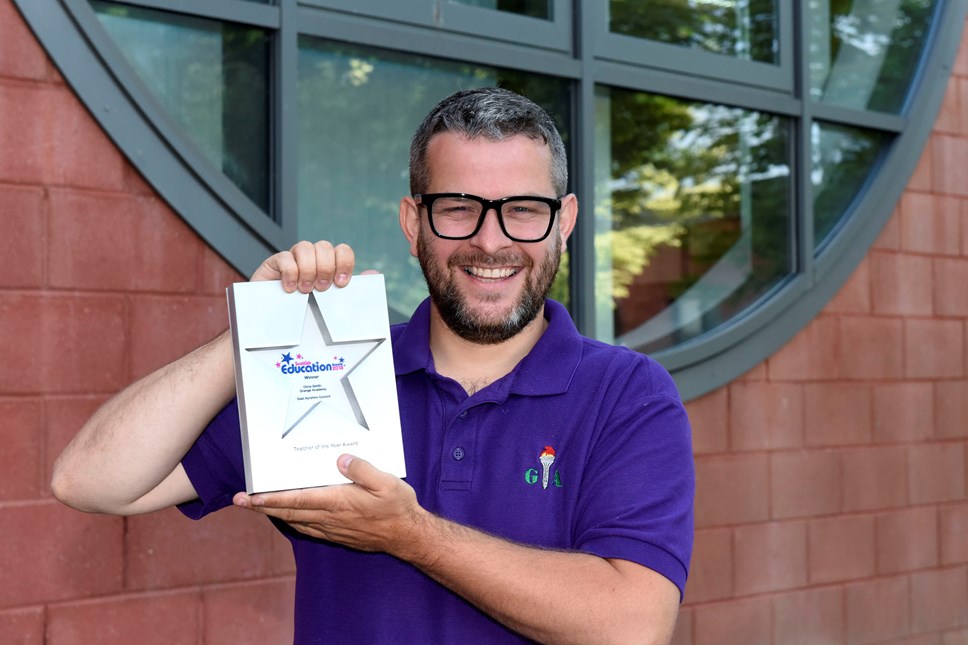 Scottish Education Awards 2018 – Chris Smith is Teacher of the Year
It was a successful day for East Ayrshire at the Scottish Education Awards when Grange Academy's resident Math geek, Chris Smith lifted the prestigious Teacher of the Year award and Park School was a finalist for the Employability and Creativity across Learning award.
Chris Smith was shortlisted for Teacher of the Year after receiving 27 nominations from teachers, parents, pupils and university professors who all highlighted Chris's dedication to teaching and his students.
Innovative in his thinking, Chris designs creative lessons helping his students to think differently and to embrace Maths. His love of this Maths is contagious and he works to develop new ideas that he shares with other UK teachers on the TESS website.
Chris has also been writing a weekly maths newsletter with ideas and puzzles for the last 11 years. The newsletter has developed somewhat of a celebrity following with Countdown's Rachel Riley, Johnny Ball and the Proclaimers all being photographed reading it intently.
He has also created annual study camps, including Halloween Study Day and Maths Camp. The special revision camps are attracting almost 100 pupils each year and this is having a significant impact on the number of pupils taking Advanced Higher Maths.
And we can't talk about Chris Smith without mentioning Pi Day. His Pi Day celebrations are legendary. This year Chris created a water themed extravaganza that he named – Pi-drotherapy. His S1 class filled over 100 pipes with coloured water, representing the digits of pi.
Councillor Douglas Reid, Leader of the Council said: "Chris Smith is an inspiration and deserves to be named Teacher of the Year. He is incredibly enthusiastic about Maths and this has a positive effect on the young people he teaches. Chris works hard to encourage our young people to achieve but also ensures that his ideas are shared at a national level.
"I thought it was a very nice touch that Chris invited the four pupils who nominated him to attend the award ceremony, Eva Peter, Ewan Eaglesham, Hannah Ewart and Angus Docherty. I was delighted to chat with Angus during my visit to Grange campus and to hear that he will be studying Maths at St Andrews, I wish him every success."
Chris Smith said: "I am buzzing about receiving the Scottish Teacher of the Year Award. Hopefully this helps to put Maths back on the map, where it belongs.

"I'm just a wee Maths geek who wants to enthuse students about Maths. There's no way this would be happening without the support of my family, the encouragement of my colleagues, the inspiration of my mentors and the joy of the pupils of Grange. I feel blessed and genuinely love that I get the opportunity to teach Maths here."
Park School was recognised for their work promoting creativity and employability skills. The school takes a creative approach towards preparing their pupils for the world of work. Senior pupils run Café 56, a community café based within their campus. The pupils shop for ingredients, bake, set up and run all aspects of the café including the finances.
This approach has helped young people gain work experience by working with local businesses and helped them secure SQA qualifications.
The school has the highest aspirations for their pupils and works hard to ensure that a learning disability isn't a barrier to lifelong learning. Through Developing the Young Workforce (DYW) the school rolled out the Horizon programme, meaning that pupils are aware of their skills and strengths at an early stage and how that relates to the world of work. This is achieved through suitable work experience, work placements, SQA qualifications and modern apprenticeships.
Councillor Douglas Reid said: "Park School works in partnership with organisations including Enable, Skills Development Scotland and CAMHS, colleagues throughout the Council, parents, carers and local businesses to ensure that every pupil achieves their potential.
"I can't praise Head teacher Carol-Anne Burns and her team highly enough for their dedication and their innovative and creative approach to ensuring that a disability is not a barrier to employment. By holding business breakfasts, careers fairs and information days for employers, the school is ensuring that everyone is fully supported and that our pupils are ready for the world of work."
Notes to editors
Pic cap
7526 - Chris Smith
7568 - Cllr Reid with Head teachers Robert Johnston and Carol-Anne Burns, Chris Smith and pupils from Grange Academy and Park School
7611 - Park School
7545 - Grange Academy