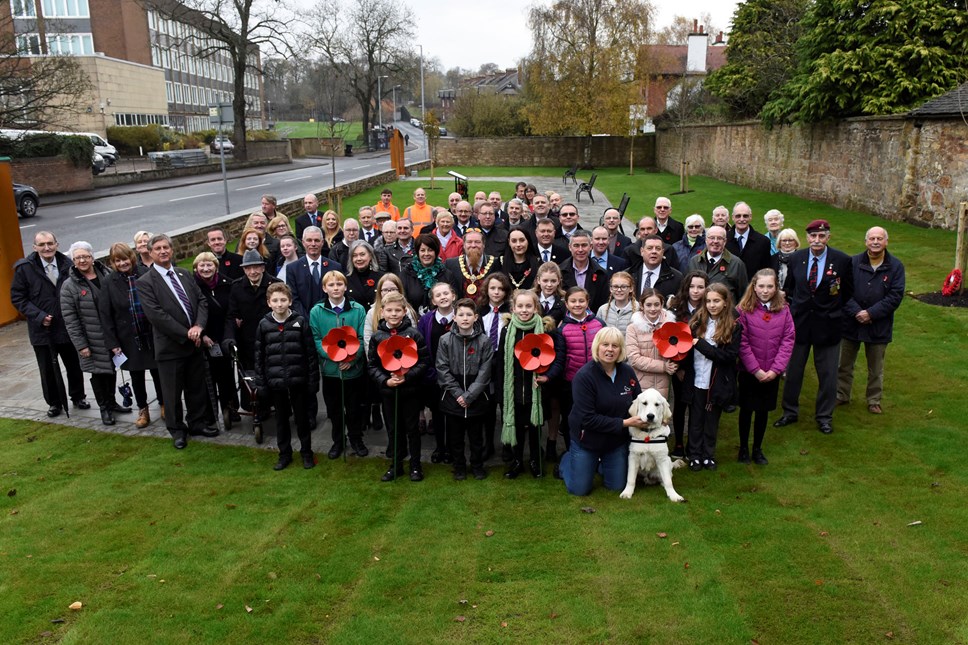 Special garden of remembrance opens in Kilmarnock
A special garden for remembrance and reflection has been officially opened in Kilmarnock that commemorates those who gave their lives in World War I as well as others who have lost their lives too soon.
Holehouse Garden has been completely redesigned to incorporate sensory planting, lighting and a World War 1 lectern and commemorative benches. The focal point of the garden is a themed poem by Scots national poet Jackie Kay that has been formed into laser cut steel in a piece of specially commissioned artwork.
After the creative consultancy Pidgin Perfect and Jackie Kay were commissioned to create a new memorial artwork for Kilmarnock, creative writing and storytelling workshops were held with community members and pupils at Loanhead Primary School, from which Jackie then wrote the bespoke poem for the town, 'Lines for Kilmarnock'. Commemorating personal memories, local stories and histories of World War I, it is positioned at the entrance to the garden to provide a setting for reflection, gathering and remembering. The artworks echo the front doors and apexes of the surrounding houses, reflecting the impact war has at home as well in areas on conflict.
The garden also features pink and white cherry blossom trees to reflect the content of the poem and elsewhere in the garden, uneven and damaged paths, walls and stairs have been removed, and level access has been created.
Provost Jim Todd opened the garden and said: "The garden is a beautiful and fitting tribute to all those who gave their lives in World War I and to those who lost their loved ones. It is also a garden of reflection for those who have lost their lives to suicide or been tragically killed in a road accident.
"My thanks go to everyone who has worked on the garden from the design process through to the building and planting. The garden has been turned into the perfect place for reflection and relaxation and I hope people will come and enjoy the new surroundings, the artwork, the trees and all the wonderful features contained within it. It's a tangible legacy that will be valued by the local community for generations to come."
Christopher McLain, Chief Executive Officer of Tivoli said: "We were absolutely delighted to be able to transform Holehouse Garden into this special garden of remembrance for the community. This project has been an opportunity for all of us to show our appreciation and to recognise the commitment and sacrifice our service men and women made during the First World War."
ends