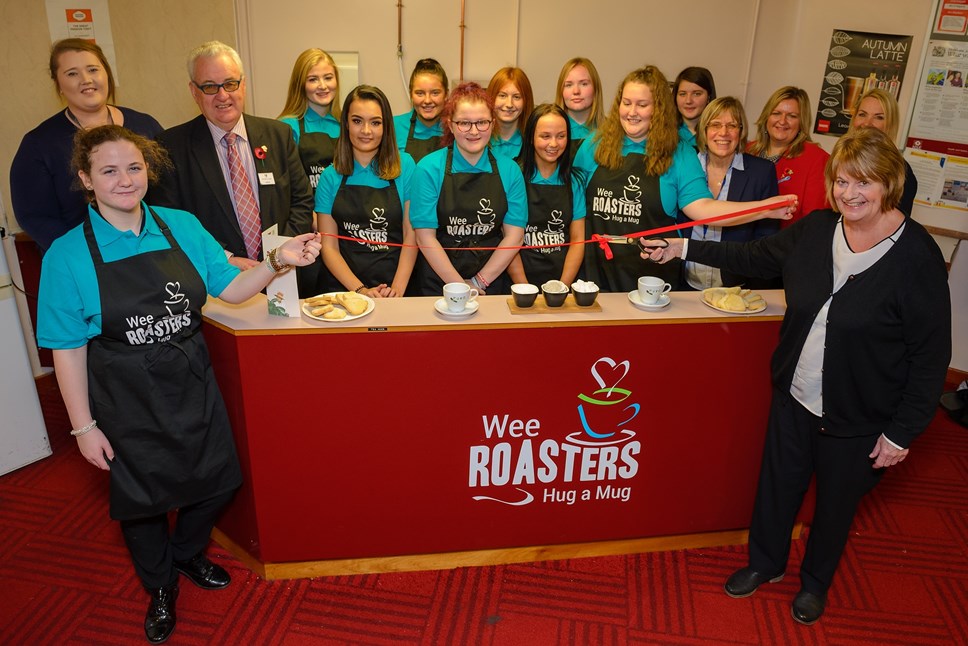 Stewarton Academy becomes a Skills Academy
Stewarton Academy has become an official 'Skills Academy' after four new courses were launched, each aimed at giving young people the training needed to succeed in the world of work.
The courses; Wee Roasters, Branching Out, Stewarton Construction and Early Years Education; have been designed as mini projects, offering 50 pupils a blend of skills and experiences being sought by employers.
Launched by Councillor Fiona Campbell, East Ayrshire Council's Cabinet Member for Skills and Learning, the Skills Academy attracted almost £20,000 of funding from Developing the Young Workforce Ayrshire (DYW) and The Prince's Trust Scotland Development Awards.
The launch was also a major milestone for the DYW and the Prince's Trust, taking the number of projects they support across Scotland to fifty.
Councillor Campbell said: "I'm thrilled to see these micro projects being launched at Stewarton and they build on similar very successful ideas in place in some of our other schools.
"A young person leaving school with workplace skills and experience will always be an attractive prospect for employers.
"By working closely with business, we can tailor the development of the courses to keep pace with their changing needs, so training and development will always be current.
"This is augmented by work placements, allowing pupils to use and fine tune their new skills in a real-world setting and the business is encouraged to recruit from a young workforce, fully trained and ready to hit the ground running – it's a genuine win-win situation."
The new projects are:
Wee Roasters is a fully equipped Community Café (Barista) located within the school, providing hospitality services to improve pupils' employability in the hospitality sector. Additional customer service training is provided by Ayrshire College.
Stewarton Construction gives pupils a range of hands-on experiences in site-based construction skills such as laying paving slabs and block paving. The project is run in partnership with the Construction, Technology and Trades school at Ayrshire College and is also supported by the Council.
Branching Out Rural Skills project offers students the opportunity to develop a range of horticulture, land management, animal handling and rural employability skills. It is a partnership with Ayrshire College and Dean Castle Country Park and pupils are on site weekly.
Early Years Education is an Early Education and Childcare project with an outdoor learning element, run in partnership with Ayrshire College and East Ayrshire Early Childhood Centres. Pupils are currently being supported at NetherRobertland Early Childhood Centre.
Claire Baird, DYW Ayrshire Project Executive added: "We are delighted to support our fiftieth project at Stewarton Academy, in partnership with The Princes Trust and Ayrshire College.
"The aim of these projects is to develop employability skills in our young people. In addition, they achieve accreditations which support them with the transition to their future career."
Walter Smith Chair of the Prince's Trust, Ayrshire said: "It was an absolute joy to see the young people participating in these innovative projects, demonstrating the new skills they have already gained such as confidence and customer service.
"I'm absolutely certain that The Skills Academy will provide many positive and exciting opportunities for the pupils of Stewarton Academy"
Notes to editors
The launch of the Skills Academy was also attended by:
Councillor Ellen Freel, East Ayrshire Council
Kate Still Prince's Trust Director
Walter Smith Prince's Trust Chair/DYW Ayrshire Regional Board
David Smith DYW Ayrshire Chair
Claire Baird DYW Ayrshire Project Executive and
Carol Nisbet Director Ayrshire College/DYW Ayrshire Regional Board