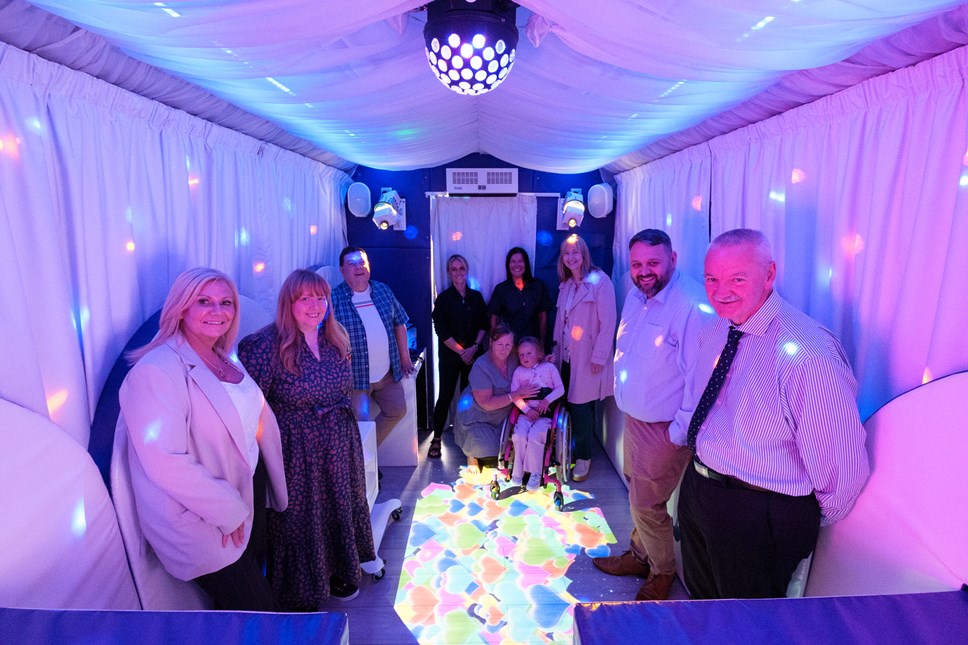 Summer programme has been a whole lot of fun!
Visitors from the Council and Aberlour dropped into Willowbank School recently to find out more about the ASN holiday support programme, which is being delivered by Aberlour, Scotland's Children's Charity.
The holiday support programme has just completed its third week and is running within Willowbank School, Hillside School and Crosshouse Communication Centre. Familiar staff have been recruited, which has helped to ensure that provision is consistent and that our children and young people feel safe and secure.
Councillor Douglas Reid, Leader of the Council was joined at Willowbank by Councillor Elaine Cowan, Spokesperson for Lifelong Learning, Education and Skills and Culture, Councillor Elaine Stewart, who was representing Councillor Maureen McKay; Chief Executive, Eddie Fraser and Kevin Wells, Strategic Lead: Communities.
They toured the school viewing all the fun activities on offer including swimming, the soft play area, outdoor play, the interactive games within the sensory rooms and Aoife's Sensory bus.
Councillor Reid said: "The ASN holiday support programme is being provided by Aberlour and was developed with extensive support from Social Work, Education and, Housing and Communities. An important part of the programme was utilising educational facilities that our children and young people know and recruiting familiar staff.
"It was clear from our visit to Willowbank that this approach was the right one. The children and young people were very relaxed and happy within the school and the staff knew them well, understanding their needs and knowing the activities that they enjoy. One of the boys, James, was relaxing after his lunch, and a busy morning of swimming, by watching his favourite episode of The Chase.
"In addition, to the activities within the school, Aoife's Sensory bus has visited along with very popular animal visits including llamas and rabbits. There was also a visit from two ducks, but that wasn't organised they were just visiting the playground.
"The visit was also a great opportunity to chat with some of the team from Aberlour and our staff about the programme, about where they think it has gone well and where they think improvements could be made. They also shared some early feedback that has been provided by parents and carers and this has been very positive.
"Our families with children and young people with Additional Support Needs face significant challenges daily and we recognise the importance of ensuring that they receive support and respite. Aberlour will carry out a consultation with parents and carers at the end of the programme and this will inform how we move forward. We will also invite the Alliance back to engage with young people, parents, carers and staff to give us an independent view of what has gone well and what we can improve upon. This was just the beginning but I am proud of what has been achieved in such a short time.
"Finally, I would like to take this opportunity to thank our staff who are working through the school holidays and to everyone who has supported the programme, particularly our parent council representatives and Kevin Wells from Housing and Communities, who was the Council's programme lead."
In addition to the ASN holiday support programme, Vibrant Communities are running a full summer activity programme, with accessible activities that were made available to parents and carers of children and young people with Additional Support Needs prior to the programme going live. Active Schools is also running a summer programme at Park School, which is being supported by young volunteers who attend our local secondary schools.
The children and young people from Park School have been really enjoying their summer programme. With fun games, arts and crafts and animal visits including ponies and rabbits; they have had a blast.
All the children and young people who have attended the Council's summer activities have received a healthy packed lunch provided by Catering Services.
Notes to editors
Background
Last year, following operational changes to holiday provision and subsequent feedback from parents and carers and elected members; the Council commissioned The Alliance to carry out a review of Out of School ASN Services, focusing on family experiences, to develop recommendations to guide improvements. The Alliance will be invited back after the ASN holiday support programme has been completed for the summer to carry out a further review.