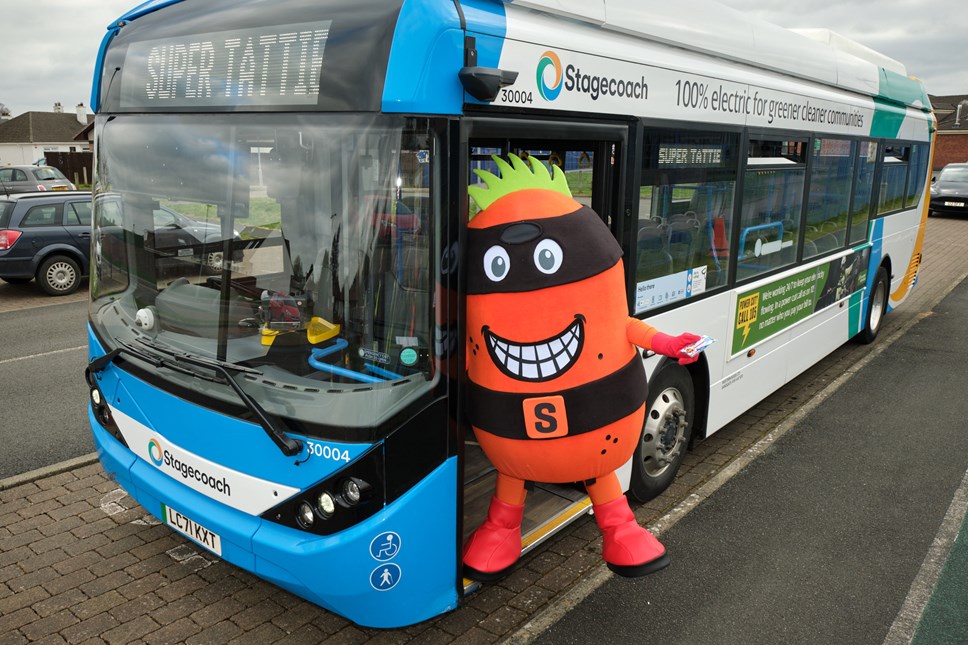 Super Tattie hops on the bus to visit Gargieston Primary
Super Tattie, the Council's school meal mascot, grabbed their free bus pass and hopped on board an electric Stagecoach bus to visit the children and young people of Gargieston Primary recently.
Four young people - Ben, Alice, Lucy and Ben from P4 at Gargieston Primary had volunteered to be the face of our 'Beat the Crunch' free school meal advertising campaign, which is currently running on Stagecoach buses across East Ayrshire. They did a wonderful job crunching on fruit and vegetables for the photos and Super Tattie and the team from Stagecoach wanted to make sure they could see their advert on one of the buses up close.
The school was visited by one of Stagecoach's brand new 100% electric zero-emission buses displaying our free school meal campaign messaging. Communities will benefit from 48 electric buses being used on local routes around Ayrshire as the operator makes significant progress toward reducing its emissions and air pollution.
Councillor Elaine Cowan, Spokesperson for Lifelong Learning, Education and Skills and Culture said: "It was great that Super Tattie and Stagecoach teamed up to encourage the children and young people of Gargieston Primary to think about healthy food choices and sustainable travel. I have to admit that Super Tattie's bus pass really did make me laugh, but there was a serious message to encourage our children and young people to use their free bus passes, with their parents and carers, and to choose sustainable travel.
"And our four young people from P4 got to see their advert on a bus with Super Tattie. That was very exciting for them and started some great conversations around healthy eating and making good choices at lunchtime, which then continued at their school assembly after the visit.
"Super Tattie is currently touring our primary schools encouraging our children and young people to enjoy a healthy and nutritious school meal and the response from our children and young people has been extremely enthusiastic. I think Super Tattie understands what it would be like to be in a K-pop band!
"Finally, I would like to take this opportunity to remind parents and carers that all children from P1 to P5 receive a free school meal and that older children and young people may qualify due to your income. All the information you need is on the Council's website."
Fiona Doherty, Managing Director of Stagecoach West Scotland, said: "It was a privilege to team up with Super Tattie and welcome them and the children from Garigeston Primary on board our brand-new zero-emission electric bus to celebrate this fantastic free school meals initiative.
"We're proud to work with local schools across our network and share the importance of access to healthy food choices and sustainable travel. Super Tattie was ready to get on-board using their Under 22's free bus pass. It was great to hear that many parents and carers are making use of their children's free bus passes and we would encourage everyone to apply. For more information on how to apply please go to http://stagecoachbus.com"
School meal menus
The 2022/23 school meal menus, featuring Super Tattie, are available online School meals menu and price list · East Ayrshire Council (east-ayrshire.gov.uk)
The Council's Catering Services uses organic, local and seasonal produce, wherever possible and has designated meat-free days. All meat on offer is sourced from local butchers and the chicken is Red Tractor assured. Main meals and snacks are served with two fresh seasonal vegetables/fresh salad and a piece of fruit. A pick and mix sandwich option is offered daily with salad dishes, yoghurt, fresh fruit and free bread.
Catering Services will be running special themed days throughout this year in all primary schools and Early Childhood Centres. There will be a special book day themed lunch in March, a space themed day in April, a superhero and princess day in May and a beach party in June before the summer holidays.