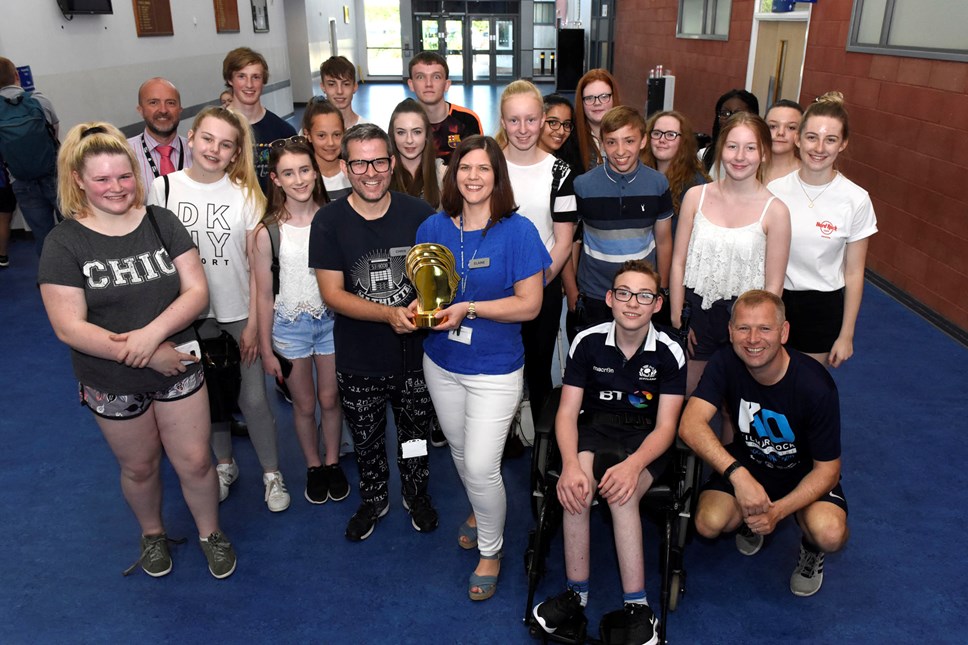 Team Smith triumph on TV quiz
The Smiths from Newmilns have been named Britain's brainiest family after winning Family Brain Games, the new BBC2 quiz hosted by Dara O'Briain.
Dad Chris is the resident Maths geek at Grange Academy and held the title of Scottish teacher of the year last year; Mum Elaine is also a teacher at Grange Academy working within the hearing impairment unit. Their eldest daughter Daisy is a pupil at Loudoun Academy and she has won two gold medals at the Scottish Maths Challenge Awards, while the youngest competitor in the show, Heidi is a pupil at Darvel Primary School and is the youngest person to win gold in the Scottish Maths Challenge Awards.
Their exceptional maths and problem solving skills were put to the test throughout the tough competition; however, it was their ability to communicate effectively with each other and work as a team that set them apart, winning the family fans across the world with #TeamSmith trending second on Twitter during the semi-final.
When Dr Hannah Critchlow, the show's neuroscientist said that it brought tears to her eyes how well the Smiths worked together to solve problems, thousands of people at home nodded in agreement. She also described the brain's response to winning as pleasure soup, and that was definitely soup of the day for the Smiths.
Councillor Fiona Campbell, Cabinet Member for Skills and Learning said: "I am absolutely delighted that the Smiths have won the BBC's Family Brain Games. It was a rollercoaster journey, particularly the semi-finals where the Smith's trailed until the final round pulling off an exceptional win to reach the finals.
"Their problem solving, communication and maths skills are incredible but it was their wonderful, positive attitude that shone through and made us all so proud. The support they have received from across the world has been wonderful to see. There is even a video on Twitter of former pupils celebrating the Smith's win from their holiday in Magaluf.
"We are so lucky to have teachers of Chris and Elaine's calibre working for East Ayrshire Council. They demonstrated to the world the skills that make them wonderful teachers and why they are so loved by their pupils."
Chris Smith said: "We are still buzzing about winning the first ever Family Brain Games. It's been a joy to see Daisy and Heidi shining on the telly- they're fantastic young women who were only mildly embarrassed by their dad's geeky Maths trousers.
"We're grateful for all the support of #TeamSmith, including from our biggest fan, Logan! It's weird that folk have started to recognise us when we're out and about, Heidi's even been asked for her autograph! We feel really blessed- the show was brilliant and we've got loads of lovely memories crammed into our 'award-winning brains'."