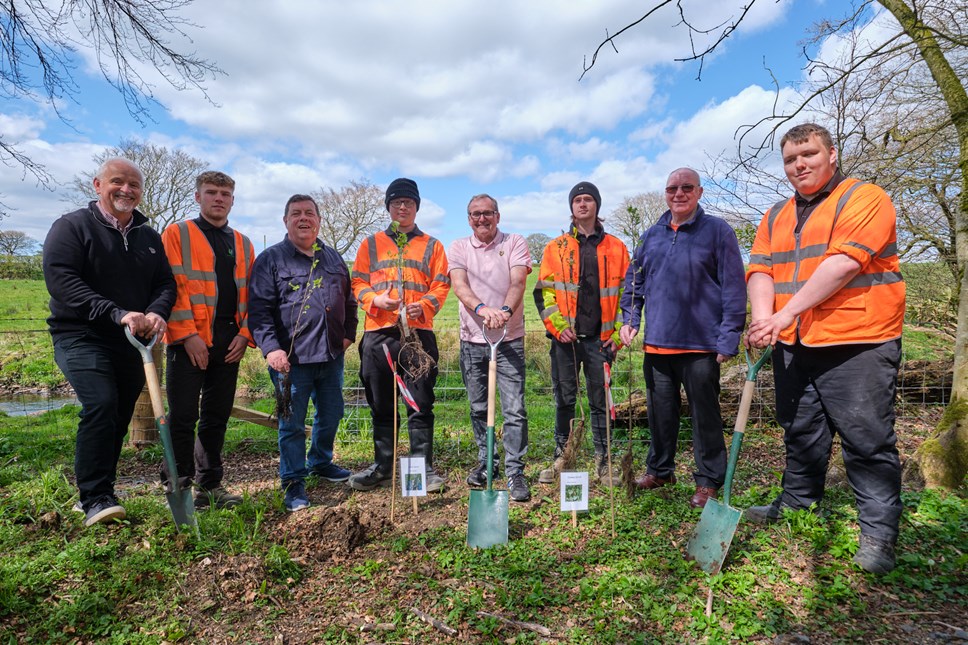 The Wee Glen, Dunlop benefits from improvements
The Wee Glen Community Woodland in Dunlop was the location for a tree planting ceremony to mark extensive improvements carried out by East Ayrshire Woodlands.
The team from East Ayrshire Woodlands, which included trainees and modern apprentices, worked with the local community and Greener Communities to improve the Wee Glen. They upgraded paths, steps, the bridge and access points within the woodland; signage was revamped, trees were removed and two rustic benches were also installed.
Leader of the Council, Councillor Douglas Reid was joined at the Wee Glen by Councillor Jim McMahon, Cabinet Member with responsibility for Housing, Welfare and Poverty, Social Care, Mental Wellbeing and Addiction and Recovery, local members Councillors Stephen Canning and John McGhee and Scott Mitchell from Dunlop and Lugton Community Council.
Councillor Reid with Councillors McMahon, Canning and McGhee each planted a tree. There were two birch trees and two rowan trees planted, to signify regrowth and renewal and the trees will support the biodiversity in the area. Cllr Reid said: "The new upgrade, not only provides safer and better access through the wood, but with the practical improvements to the area, East Ayrshire Woodlands hope that the changes will encourage local communities and visitors to stay within the pathed areas. This will allow the plants to flourish, encouraging greater biodiversity and protecting the flora and fauna that already exists.
"Paths and access can help give people the opportunity to connect with our trees and woodlands, which has never been more important, with our world experiencing the devastating effects of climate change. This work is very important to improve local biodiversity, as we continue to tackle the climate emergency.
"I really enjoyed meeting Reg Briers, Alison Calcott and the whole team from East Ayrshire Woodlands. The modern apprentices, under the watchful and experienced eye of their chargehand Mark McDicken, have made a huge difference to the Wee Glen. In consultation with the local community they have made this area accessible to all and worked hard to completely transform this beautiful woodland. The team will be completing their apprenticeships at the start of June and I would like to wish them all the very best in their future careers."