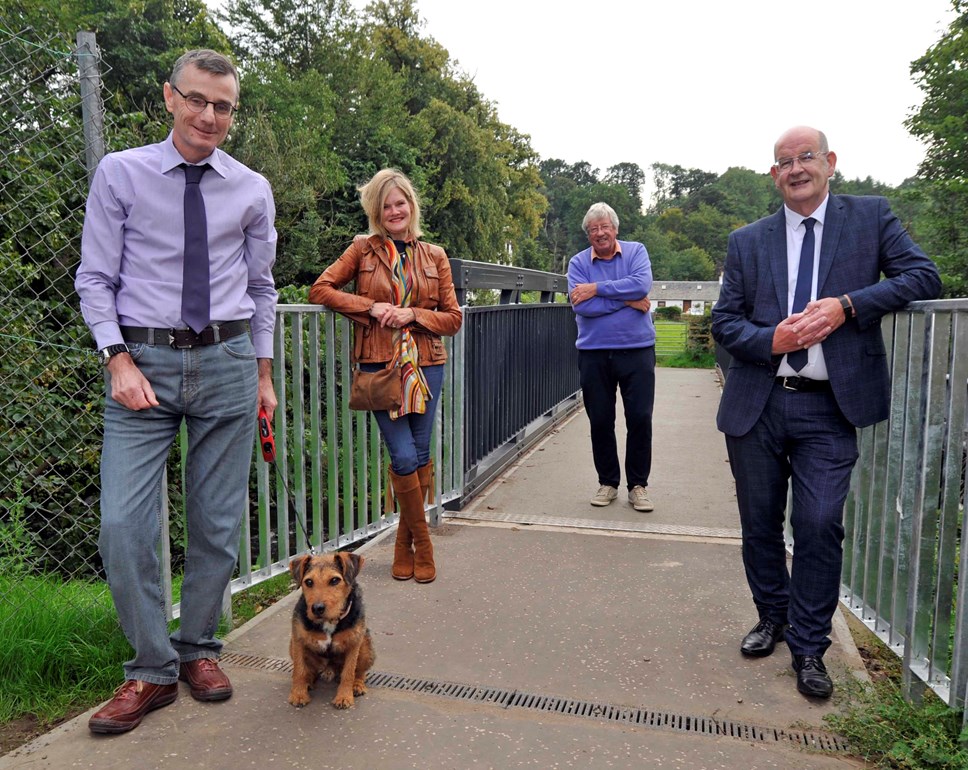 Waterhaughs footbridge officially opened
The new Waterhaughs footbridge in Darvel has been completed by the Ayrshire Roads Alliance and is once more connecting the local community.
Thought to have been originally constructed and installed in the 1940's, the former half-through Warren Truss steel footbridge had reached the end of its natural life. The town spans the River Irvine so the footbridge was an important feature, providing access to rural walks and the beautiful Irvine Valley countryside.
The Alliance worked closely with the local community on their plans for the new footbridge and have installed a half-through Howie Truss footbridge, utilising the existing abutments.
Local member for Irvine Valley, Councillor Sally Cogley joined Darvel & District Community Council member George Gardiner, Kevin Braidwood, Head of Ayrshire Roads Alliance, project manager Alan Ierland and his dog, Scully – to view the new footbridge.
Councillor Jim McMahon, Cabinet Member for Community Safety, Roads and Transport and Community Cohesion said: "The Council's bridge improvement programme, which is delivered by the Ayrshire Roads Alliance, is an important part of our annual multimillion pound improvement programme. Footbridges connect communities and also ensure that local people have access to our beautiful rural countryside.
"I am really pleased that the new footbridge is now in place and I would like to thank the local community for their patience throughout the installation process. I would also like to thank the Ayrshire Roads Alliance and our main contractor, for their hard work, ensuring that the project was completed as quickly as possible for the people of Darvel."