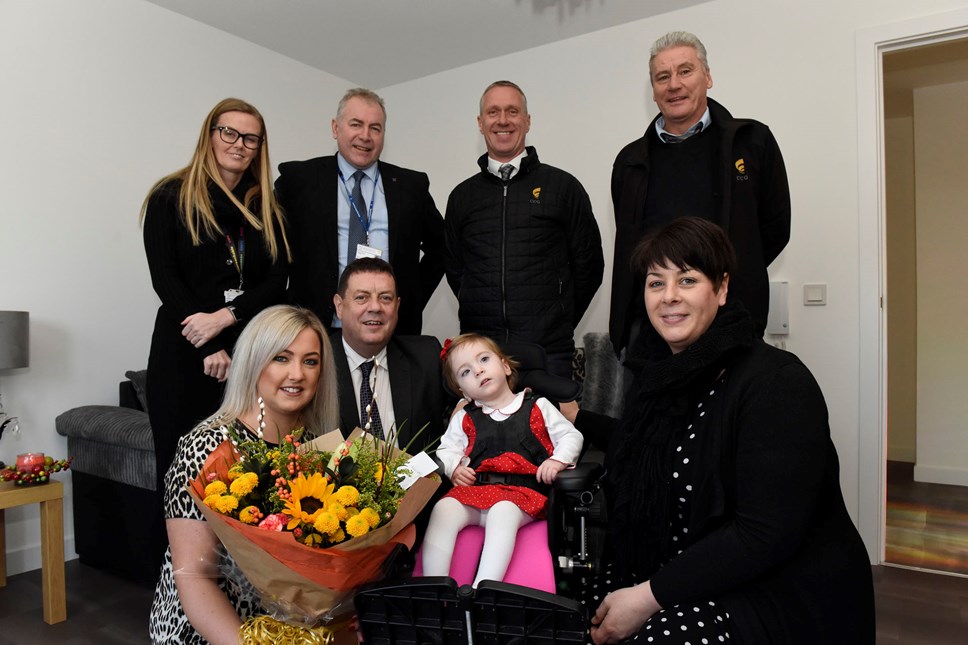 Welcome mat rolled out at Cassillis Court, Dalrymple
Melissa Berretti and her two year old daughter, Sofia, welcomed visitors from the Council to their beautiful new home at Cassillis Court, Dalrymple recently.
Their home is part of a stunning new £1.74m development, providing eleven new build affordable homes for rent in the heart of the village
There are eight two-bedroom homes, two two-bedroom homes specially designed for older people and Melissa's two-bedroom home designed for wheelchair users.
Councillor Douglas Reid, Leader of the Council visited the development with Councillor Elena Whitham, Cabinet Member for Housing and Communities and presented flowers to Melissa as a home warming gift.
Councillor Reid said: "The Cassillis Court housing development has been built on the site of the former community centre and library which have been relocated to new, modern facilities within Dalrymple Primary School. The houses were designed to a very high standard and built using modern methods of construction. This makes them energy efficient, helping to keep energy bills down.
"I was delighted to visit Melissa and Sofia and to see the huge change their new home has made to their lives."
Melissa Berretti said: "Our new bungalow is absolutely fantastic and Sofia and I can't wait to spend our first Christmas in our forever home.
"Living in a home specially designed for wheelchair users has made a real difference to our lives. Before we were in a house with an upstairs and it was really restrictive but now there is so much space for Sofia's wheelchair, it has changed our lives completely."
Built in partnership with CCG (Scotland) Ltd and supported by funding from the Scottish Government; work commenced on site in November 2017 and was completed in the summer.
Calum Murray, Director, CCG (Scotland) Ltd said: "The completion of Casillis Court is a huge milestone for CCG and East Ayrshire given that it is the first project to be delivered as part of a strategic partnership that will see 270 homes constructed across the region over the next three years.
"By working collaboratively, we have taken the CCG standard house type and jointly re-designed it to meet the needs of the authority as well as residents such as Sofia and Melissa. In doing so, we have set a benchmark for quality and will ensure these standards are sustained for the duration of our partnership."