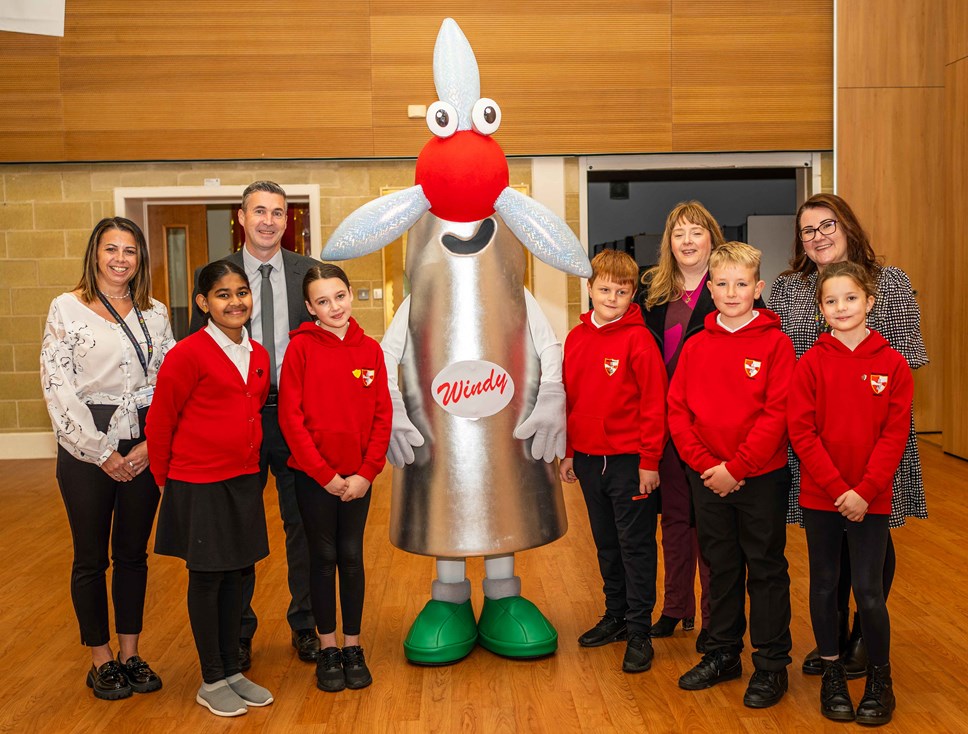 Windy the mascot makes special visit to New Cumnock Primary
Windy the mascot made a special trip to New Cumnock Primary School recently along with Councillor Graham Barton and Councillor Elaine Cowan to meet Noah, who was Windy's designer, and the Eco Committee from the school.
Windy is the face of a new initiative called Power Down and has been sharing top tips and ideas with all our Early Childhood Centres and schools to help reduce energy and water consumption.
All establishments that have signed up to Power Down are now completing monthly energy reduction challenges. Each time they complete a challenge, they collect major parts of a wind turbine with the aim of gathering a complete structure by the end of the school year.
Challenges include analysing energy and water usage, which has been supported by the Council's Energy Team through the development of graphs for each facility to use and the Windy Widnae/ Windy Wid challenge, where they will be encouraged to follow Windy's ten top tips.
Councillor Graham Barton, Spokesperson for Planning, Property and Environment said: "What a privilege to visit New Cumnock Primary School and to meet Noah, who designed Windy the mascot, and the school's new Eco Committee. All the children and young people from the school thought Windy was just brilliant, he was even getting hugs from some of the younger children.
"New Cumnock Primary was one of just four primary schools to achieve their silver award at the most recent Clean, Green Education Awards so it was great to visit and chat with Head Teacher Mrs McMurdo and Principal Teacher Miss McNulty about their plans for the year ahead and the new initiative Power Down.
"Power Down was created by Vicky McWilliam, Principal Teacher of Climate Change and Active Travel, and Natasha Caldow, Climate Change Officer and aims to build a community of energy saving champions. They have created fun but very informative monthly challenges that really make our children and young people think about their energy and water consumption in school and at home. The Eco Committee from New Cumnock Primary was very enthusiastic about Power Down and it is going to be very interesting to see the impact the initiative will have this school year.
"Windy will also be releasing his top tips on X @EACDigi_LfS each month to encourage everyone to Power Down and reduce their energy and water usage. I hope you will give him a follow and encourage the people in your life to Power Down."