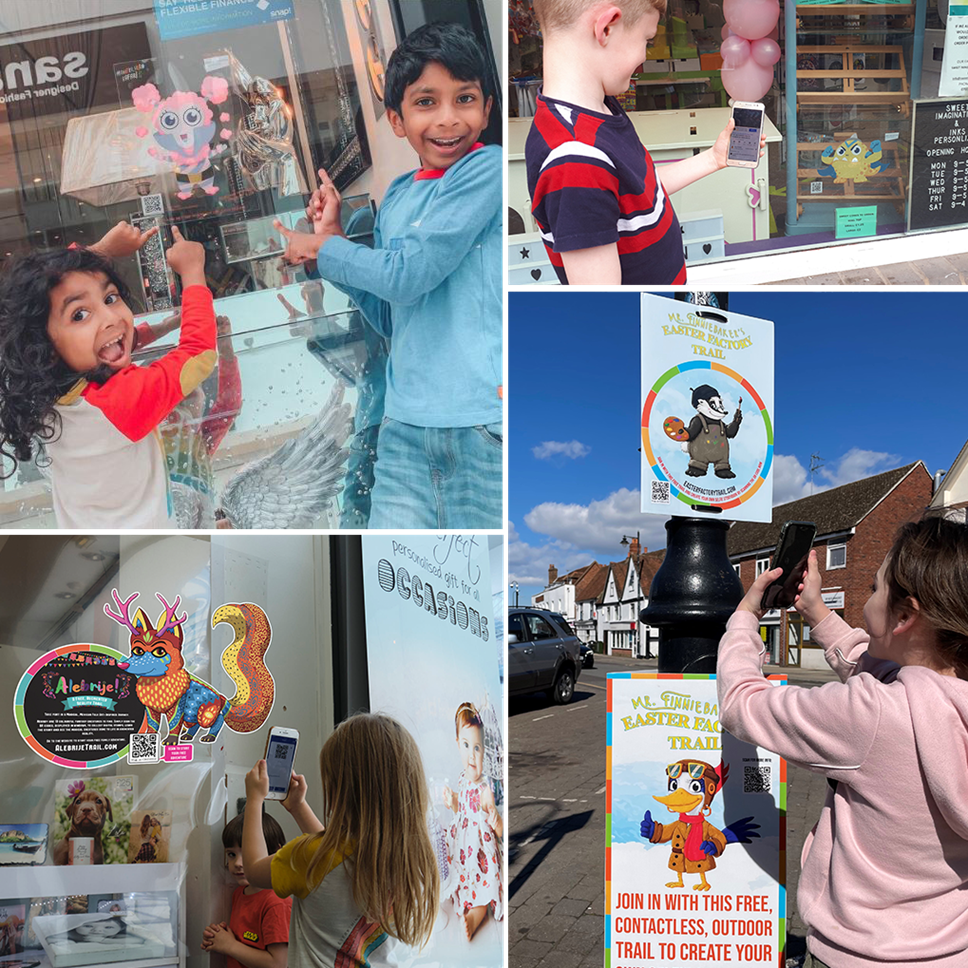 Christmas Augmented Reality (AR) animals come to Kilmarnock
This Christmas, families in Kilmarnock will be able to track down 11 cute Christmas animals in AR thanks to Kilmarnock Business Association.
In a first of its kind, Kilmarnock Business Association has teamed up with Kilmarnock Football Club, trail experts High Street Safari with support from East Ayrshire Council's Town Centre Regeneration team to run a free augmented reality (AR) trail in Kilmarnock Town Centre.
Thanks to its cutting edge QR code and web-based platform, the trail is completely contactless, meaning that anyone with a smartphone can take part.
The use of augmented reality means that players can not only discover the hidden characters in participating businesses windows, but they actually get to see them burst to life right in front of them.
The idea behind the event is to encourage families to come into the centre with a safe, socially distanced and ambitious event. The trail is a story driven experience that players can complete in any order and, while being engaging and fun, is designed to encourage people to get out, do some walking, and discover hidden parts of the town centre.
The 'Santa Needs You!' AR Trail is positioned around the town centre with eleven cute Christmas animals to find. Thanks to sponsorship from Kilmarnock Football Club, the "host" for the trail, who introduces each of the characters, and gives clues to their locations, is none other than Captain Conker, the Club's very own mascot.
The story….
Rudolph has taken the year off and opened his spot on the sleigh team to whole of the animal kingdom, Captain Conker gives players clues to help them find and meet each of the hopeful characters. It's then put to a vote to help Santa decide which animal will get to lead his sleigh…
The eleven creatures on the trail have been specially commissioned for the trail and have been modelled in 3D for augmented reality 'Pokémon Go' style. Once players open the AR they can take selfies or even record movies with the animals.
The trail takes about forty-five minutes to complete but can be completed in more than one visit. It's completely free for families and groups to take part. All finishers win an e-book which concludes the story.
The trail works by utilising contactless QR codes, without the need for families to download or sign up to anything. With safety in mind, it has been designed so that there is no need to go inside the venues, but some participating businesses are offering extra incentives to come in while you visit.
It's been designed so that younger children will enjoy spotting the cute animals in host windows and older kids, and grown-up ones, will be able to engage by reading the stories and taking hilarious selfies.
Peter Telfer of the Kilmarnock Business Association said: "We're very excited to be able to present Christmas with a difference for all our customers this year. This Christmas Safari lets everyone have a bit of safe, socially distanced fun, and we hope it will also encourage everyone to support our local businesses while they enjoy the trail. Working together with East Ayrshire Council, Kilmarnock FC and our traders we're doing our best to bring a bit of Christmas fun to the town."
Councillor Douglas Reid, Leader, East Ayrshire Council said: "This is a great new initiative from Kilmarnock Business Association and KFC and I hope it will make Christmas Shopping a lot more fun this year. It's a fantastic way to encourage people to get out there and enjoy the town centre and its shops while keeping safe. I congratulate Kilmarnock Business Association for bringing this exciting innovation to our streets. It's another example of the Council working closely with local organisations to drive change and bring new life to our town centres. I'm sure it will be a big success for "kids" of all ages… now where did I put my phone?"
The trail runs in Kilmarnock from 11 November until Christmas Eve. To find out more, please visit the website: www.highstreetsafari.com
https://highstreetsafari.com/locations/kilmarnock
Notes to editors
Please note - because the safari locations are part of a "treasure hunt" style trail we've used generic pictures to avoid revealing the locations of the characters
About High Street Safari:

High Street Safari is a project being coordinated by Martin Blackwell, former CEO of Assoc. of Town & City Management (ATCM) and the Charity Retail Association. It was set up to create a unique high street family experience that aimed to raise significant sums for local good causes.
The trails work using QR codes, without the need for players to download or sign up to anything. The trail comprises 11 vinyl window characters with QR codes hosted by local businesses, cultural and public venues.

Participants start the trail by scanning any of the characters. They engage with the experience by scanning each character's QR code and learning their names and stories and seeing them in AR. Younger children will delight in spotting the cute and colourful characters in window corners and older (and grown-up children) will engage by learning more about them. Everyone will have fun taking silly selfies in augmented reality. They can do this in their own time and pace, if it takes a week it doesn't matter.

After spotting all 11 animals and selecting, and voting on, a favourite to lead Santa's sleigh, families will be rewarded with a free, e-book that concludes the story.
National Coordinator Contact details
Stephen Blackwell
07735 125 180