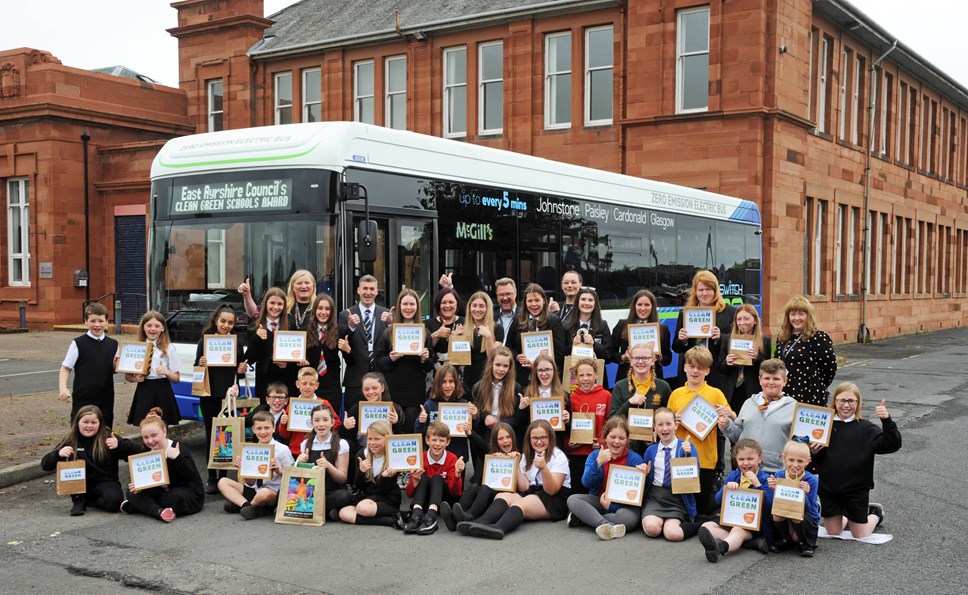 Council celebrates young climate champions
For the first time in over two years, the Council Chambers were alive with the sound of chatter and cheer this week as children and young people from schools across East Ayrshire gathered to celebrate first Clean, Green Education Awards.
Children and young people of East Ayrshire have played a pivotal role in shaping the ways in which the Council and local communities are tackling climate change. They issued a clear call to action following the first Children and Young People's Climate Conference in October 2019 and their views helped shape the Council's Clean Green Climate Change strategy which was agreed by Council in June 2021.
At the second Children and Young People's Climate Conference, which took place as a virtual event in in 2021, the young enthusiastic delegates pledged to develop Climate Change Actions Plans for their individual schools and wider communities. That event concluded with a commitment to recognise the achievements of young people in tackling Climate Change with the launch of the Clean Green Education Awards.
Since then, 21 schools have developed their own action plans and these include 217 individual action points which the children and young people have implemented. These actions and behaviour changes will help the Council meet its ambitious net zero targets.
The Clean Green Awards are designed to encourage action across the key themes of the climate change strategy: Energy, Transport, Waste and Natural Environment and schools can aim for Bronze, Silver and Gold accreditations in recognition of their journey towards achieving net zero.
In all, 18 establishments submitted evidence for the 2022 Clean Green Education Awards and all of these achieved a Bronze accreditation. Special recognition for early action was also awarded to six schools:
New Cumnock Primary School, for a range of initiatives encouraging energy saving within their establishment; Lochnorris Primary School, for reducing transport emissions by encouraging active travel by walking, cycling and scooting to school; Lochnorris Supported Learning Centre, for reducing and recycling food waste and composting; Netherthird Primary School, for their commitment to the natural environment and work in supporting the local community garden; Kilmarnock Academy, for their creative thinking and awareness-raising of the carbon impact of our digital footprint and Stewarton Academy, for their outstanding Pupil Leadership and leading the learning around the implications of climate change and the actions that need to be taken.
Top award of the day went to Onthank Primary School, who were the only establishment to achieve the Silver accreditation - in recognition of their outstanding early action across each of the four themes and for their wider engagement and work with the local community to reduce emissions. They also received the Chair's Award for Outstanding Achievement.
Councillor Graham Barton, the Council's new spokesperson for Children and Young People, Net Zero, Environment, Climate Change and Equalities and Inclusion, officially welcomed the young people to the Chambers and later presented the Awards.
He said: "It's been a great privilege for me to preside over these Awards today. I've been blown away by the passion, commitment and creativity of our young people to drive forward change to help save our planet.
"Congratulations to all of our winners today. To achieve the Bronze accreditations at this stage of the Awards programme is testament to the dedication of our young people to achieving net zero. I would also like pass on my personal congratulations to Onthank Primary School for achieving Silver accreditation for their outstanding work in embedding behaviour change and working in partnership with their local community to reduce emissions. Well done!
"I will be following the progress of our winners with interest and look forward to hearing more ideas and seeing how some of the excellent practice we heard about today is shared and replicated across our establishments. I hope our other schools will be inspired by these actions and will be encouraged to take part in awards next year.
"As a Council we have responded to the young people's call for action. We have established a £1 million Climate Change Investment Fund, which will be used to support the four key themes of our Strategy, Energy, Transport, Waste and Natural Environment.
"We need to accelerate the pace of change and this funding, which will be supported by wider capital investment in transport infrastructure and our buildings, will stimulate early action and encourage behaviour change within our communities, businesses and schools.
"Our aim is to become a net zero Council by 2030 and for the wider East Ayrshire Community to reach net zero by 2045 and if we all follow the examples set today by our children and young people, I really believe we are on track to achieve this."
East Ayrshire Leisure were the main sponsors for the inaugural Clean Green Education Awards this year. Each winning primary and special school will be rewarded with a group visit to the Dean Castle where they will participate in a Knights and Castles adventure day with a focus on biodiversity and the natural environment. Secondary school winners will be rewarded with an experiential residential visit to the Dean Castle Country Park where they will learn about conservation, biodiversity and the important role that green space will play in mitigating climate change. ASDA supermarket kindly donated additional prizes for the special recognition awards.
Full list of winners
Bronze Awards
Auchinleck Primary School
Dalmellington Primary School
Dunlop Primary School
Lochnorris Primary School - Special Recognition for Transport (Active Travel)
Lochnorris Supported Learning Centre – Special Recognition for Waste (recycling)
Loudoun Academy
Netherthird Primary School - Special Recognition for Natural Environment
New Cumnock Primary School - Special Recognition for Energy
Sorn Primary School
St. Patricks Primary School
Stewarton Academy - Special Recognition for Pupil Leadership
James Hamilton Primary School and Sgoil Na Coille Nuaidh
Kilmarnock Academy - Special Recognition for Digital Awareness
Robert Burns Academy
St. Xavier's Primary School
Ochiltree Primary School
Onthank Primary School
Park School
Silver Awards
Onthank Primary School - Chair's Award for Outstanding Achievement