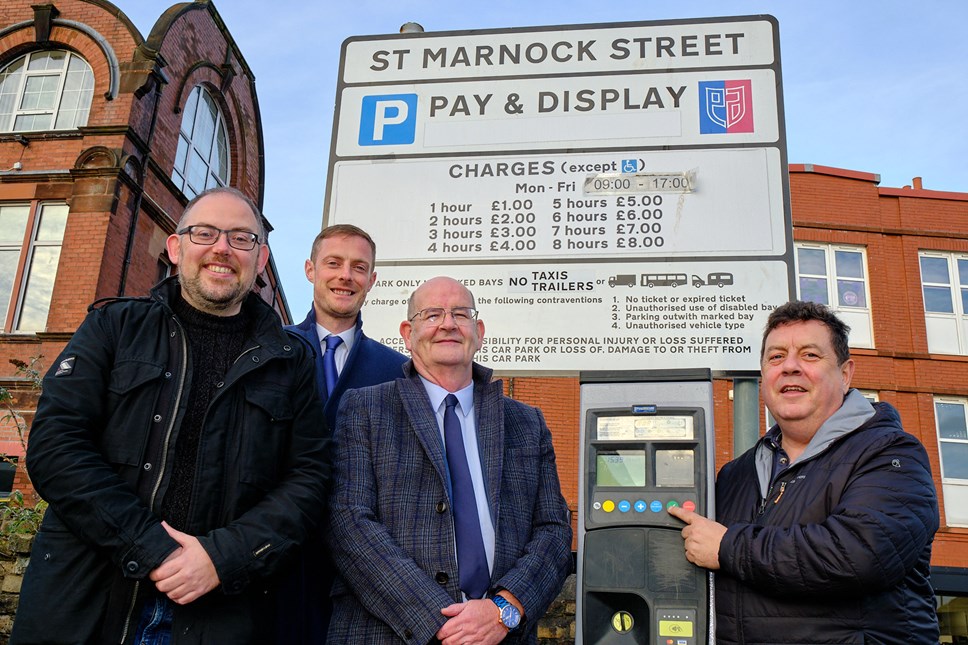 Free Christmas parking in Kilmarnock town centre
Kilmarnock Town Centre has Christmas all wrapped up with chic independent shops, large national stores and during December, three hours of free parking within Council car parks.
From Thursday 1 December, all Council car parks will offer motorists three hours of free parking. Just press the green button on the nearest parking meter for three free hours. If you want to park longer enter £1 for every additional hour required.
If you are using your handy PayByPhone parking app, there will be easy to follow instructions on how to claim your three free hours and how to pay for longer stays.
Normal charges will apply within any on-street parking bay.
Councillor Douglas Reid, Leader of the Council was joined at St Marnock Street car park by Councillor Neal Ingram, Spokesperson for Community Safety, Roads and Transportation and Community Cohesion; Peter Telfer, Chairman of Kilmarnock Business Association and Kevin Braidwood, Head of Roads: Ayrshire Roads Alliance.
Councillor Reid said: "We listened to our local retailers last December and agreed the best way to ensure that parking spaces are available in the town centre was to provide three hours of free parking from Thursday 1 December. This means that visitors to Kilmarnock and the local community can access the town centre easily for free from any of our car parks to do some Christmas shopping or enjoy one of our town centre restaurants. Just remember that on-street parking charges will remain the same. Free parking is only available within our car parks.
"East Ayrshire Leisure, the Council, Kilmarnock Business Association and Celebrate Kilmarnock have some fun events planned for December that will take the stress out of Christmas shopping. On Sunday 27 November, from 12pm, there will be a day of festivities including street entertainment and music.
Peter Telfer, Chairman of Kilmarnock Business Association said: "Christmas is such an important time for local businesses and we really want to encourage as many people as possible to shop local. The three hours of free parking being offered by the Council will ensure that the local community and visitors can enjoy free, easy parking within town centre car parks. By supporting local businesses you are supporting your own community, helping to grow the economy and keeping local people in work.
"Remember that the EA Giftcard is also available online East Ayrshire Gift Card | Town & City Gift Cards UK (townandcitygiftcards.com) and can be spent in over 200 locations across East Ayrshire."
Notes to editors
Parking will be free for three hours in Council car parks. On-street charges will still apply. Parking Attendants will be concentrating their efforts on-street to ensure the movement of vehicles allowing more people to park in the town centre throughout the day; around schools and other priority areas and will continue to ensure disabled bays and other bays designated for a specific purpose are used appropriately.