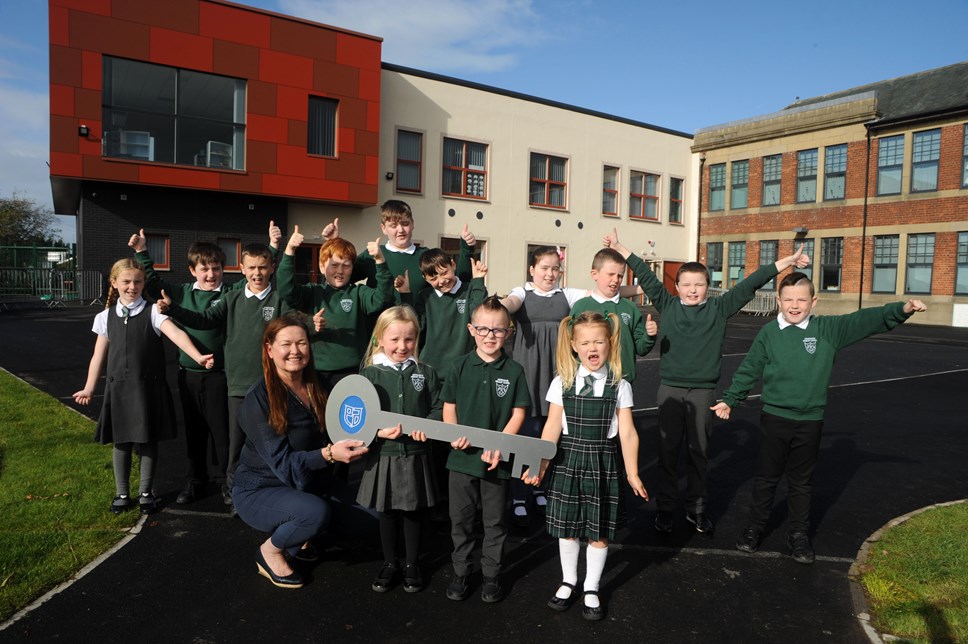 Funding of almost £500m committed to Capital Investment projects over the next ten years
At the recent meeting of Cabinet agreement was reached on the Council's ten year Capital Investment programme that will see building works to the value £499.581m across East Ayrshire.
The Capital Investment Programme clearly sets out the Council's approach to managing and modernising our assets, which includes everything from schools and public buildings and spaces to cemeteries and our roads. The extensive programme positively impacts every community in East Ayrshire.
The most recently completed projects, which have been handed over to the Council include the Dean Castle Restoration Project and the team from East Ayrshire Leisure are currently working hard to get the castle ready for re-opening to the public next month. The refurbished and extended Crosshouse Primary, Communication Centre and Early Childhood Centre opened to children and young people last September and they are thriving in their new surroundings. Catrine and Fenwick Early Childhood Centres extensions and improvements have been completed and the children love their new learning spaces, while Dalmellington Early Childhood Centre is due to be completed and handed over to the Council imminently.
And this week there was great excitement when the new Netherthird Primary School opened to children and young people. The state of the art new facility will benefit the children and young people and the whole community.
Future developments set out in the Capital Investment Programme have been newly categorised at Fully Defined, Partially Defined and Undefined. Fully Defined projects have outcomes that are clearly defined and financial implications and timescales set out. These projects include those under construction or are at an advanced development stage including Dunlop Primary extension and Early Childhood Centre, Stewarton Academy extension, St Sophia's Primary School refurbishment, the new Doon Campus, the Ayrshire Engineering Park (Moorfield Phase 3) expansion, refurbishment work and the development of a landscaped garden at Dunlop Street and Strand Street, Kilmarnock, and the new Galston Local Office.
Councillor Douglas Reid, Leader of the Council and Spokesperson for Regeneration said: "It is hard to overstate the importance of the Council's Capital Investment Programme and the positive impact it has on our communities across East Ayrshire. Over the two 10-year programmes the overall investment will be £1.034 billion and this includes extensive building works, new schools, new homes, road infrastructure improvement works, like the bridge improvement works at Queens Drive, Kilmarnock, and the extensive flood prevention works in New Cumnock, which have undoubtedly protected the local community from a third major flooding event that would have occurred during the recent severe weather.
"Projects that have been categorised as Fully Defined will continue as planned including the demolition of the multi-storey car park in Klimarnock and the construction of new car parks at Sturrock Street, Grange Street and London Road, which will support the development of Cultural Kilmarnock – a project that recently received Levelling Up funding of £20m.
"I am also very pleased to announce that Cabinet has agreed that £1m will be allocated to the Kilmarnock Strategic Group from the remaining Kilmarnock Town Centre Regeneration Fund and the Economic Regeneration and Development Fund to enable the group to establish their priorities and help them progress their Strategic Vision. An important part of the Kilmarnock Strategic Vision was refurbishing the Galleon Centre and we have agreed that an update on the development of this project will be provided to a future meeting of Cabinet for our consideration.
"The financial implications of Brexit and the pandemic have had a significant impact on projects within the Capital Investment Programme and very careful planning is required to ensure that the significant investment we are making reflects local needs, circumstances and priorities. Teams from across the Council will be looking at Partially Defined and Undefined and as these projects are developed their scope, service budgets and the impact of inflation on construction costs will become clearer. Updates will continue to be presented to Cabinet or through East Ayrshire Performs at a later date to allow us to agree final capital allocations.
"This work means that we can prioritise future investment and continue to deliver projects that will help to make East Ayrshire a great place to live and work."
Cabinet agreed that detailed updates will be provided to future meetings of Cabinet on a number of key projects including:
a review of sport and leisure in the Cumnock Area
the Green Infrastructure Plan
a cemetery condition assessment
the development of Ayrshire Growth Deal Projects
the school estate management plan.