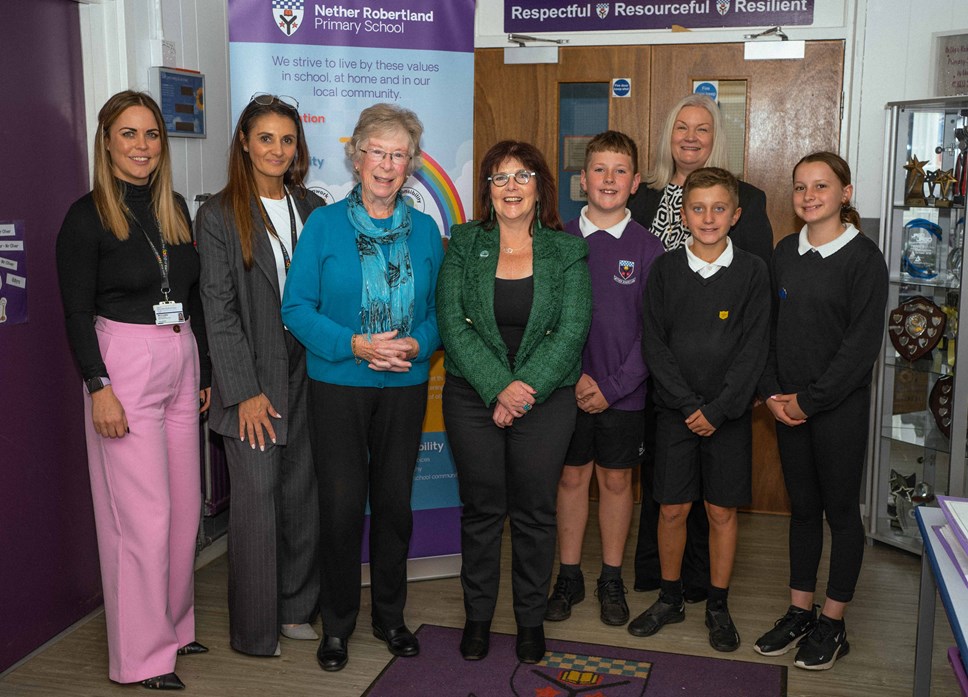 Gillian Hamilton, Interim Chief Executive of Education Scotland visits East Ayrshire
Interim Chief Executive of Education Scotland, Gillian Hamilton spent the day in East Ayrshire recently to find out more about innovative local projects like Skills and Learning 33 (SL33), touring local schools and engaging with children and young people.
The visit began at Council HQ with a meeting with Linda McAulay-Griffiths, Chief Education Officer and Head of Education, and Chief Executive Eddie Fraser, before a fact-finding visit to SL33 in Kilmarnock – a purpose built skills and learning hub, where young people at risk of disengaging, are supported into further learning, training or employment.
The visitors were welcomed warmly and professionally to SL33 by Loren, who is a recent graduate of the DFN Project SEARCH programme at University Hospital, Crosshouse, and is now employed as a Modern Apprentice by East Ayrshire Council.
The special guests then took a tour of the facility chatting to the numerous groups and young people utilising the space that includes classrooms and vocational spaces, including a hair and beauty space and creative arts and design space and the most recently completed barista training suite.
Councillor Elaine Cowan, Spokesperson for Education, and Children and Young People said: "It was great to welcome Gillian Hamilton back to East Ayrshire and join her on a tour of SL33. Every time I visit SL33 I feel the enthusiasm of our guests and the young people who are learning new skills and getting ready for the world of work through our extensive programmes delivered in partnership with the Employability team and local businesses. The young people, who are either still at school or unemployed, are working to improve their work skills.
"By working in partnership with local employers, they get the opportunity to develop meaningful interactions through work tasters, work placements, mentoring and meet the employer sessions. The SL33 team are also supporting employers to work with schools to inform the design and delivery of the careers and employability curriculum.
"It was also a joy to meet Loren again and to see how successful she has been after graduating from Project SEARCH. I am really delighted that she has found a role at SL33 that she can make her own."
After a meeting with Education Services senior management team at SL33, Gillian Hamilton visited Stewarton Academy to visit classes and speak to teachers and young people about their learning. Gillian was delighted to be reunited with Ms Helen Biddiscombe, who was her Certificate of Sixth Year Studies English teacher.
The day ended with a visit to Nether Robertland Primary School, where Gillian was a pupil between 1972 and 1980, and had been Head Teacher from 2000 to 2004. The school was so excited to welcome her back 'home' and made sure that she received an incredibly warm welcome. There was even a surprise guest – Mrs Amy Young who was Gillian's P1 teacher at Nether Robertland and who inspired her to become a teacher. Mrs Young gave 32 years of devoted service to the children and young people of Stewarton and retired when Gillian was Head Teacher.
Gillian Hamilton said: "It was a privilege to return to East Ayrshire, and to spend time with colleagues old and new to hear about the range of work underway to improve outcomes and support the learning of all young people in East Ayrshire. My visit to SL33 was inspiring – I loved meeting the young people and hearing directly from them about their own learning and the impact that their engagement with the SL33 team is having on their lives.
"The opportunity to visit Stewarton Academy, Nether Robertland ELCC and Nether Robertland Primary School was really special – an emotional end to a really inspiring day. Stewarton and Nether Robertland hold a really special place in my heart – and the surprise appearance of Mrs Young definitely made it a day to remember."
Linda McAulay-Griffiths, the Council's Chief Education Officer and Head of Education said: "It was a pleasure to welcome Gillian back to her "home" authority and to share some of the great practice in and around SL33, our schools and ECCs, as well as a chance to have extended dialogue about Scottish education in general. We are incredibly fortunate to be working under Gillian's leadership and welcome the positive collaborative culture she has built in her short time in this role."