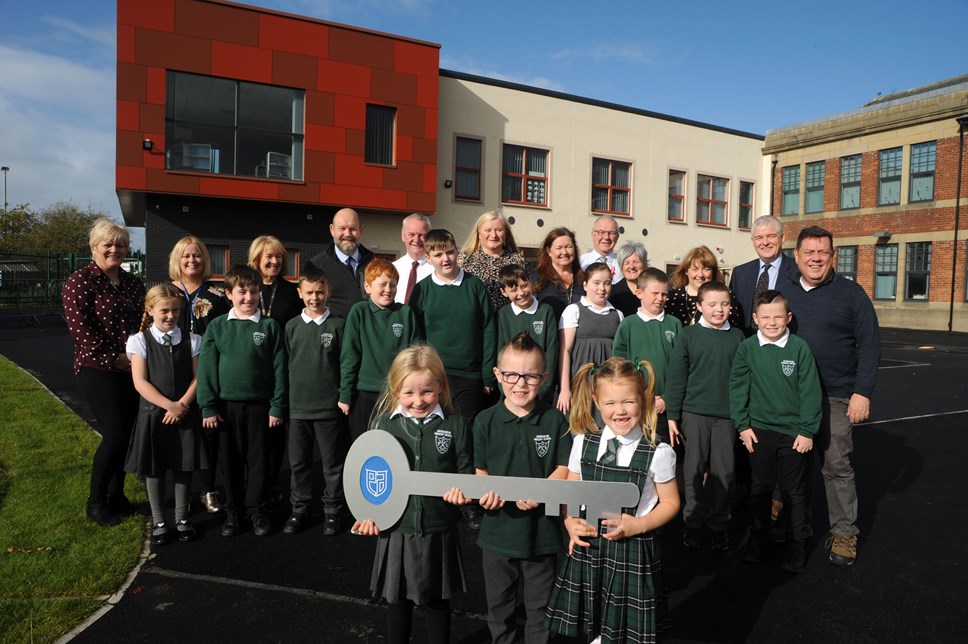 Investment in schools across East Ayrshire
At the recent meeting of Cabinet agreement was reached on the annual Learning Estate Management Plan, which will now be submitted to the Scottish Government.
The Learning Estate Management Plan sets out the Council's vision for the learning estate, as part of the Council's wider Asset Management Framework and provides an update on its current status, identifies ongoing investment and progress, and sets out priorities for future improvements.
Last month, Cabinet agreed the ten year Capital Investment programme that will see continued investment of over £499.581m across East Ayrshire. Improving the learning estate is a significant part of the Capital Investment programme, to ensure our children and young people have the best possible start in life.
The refurbished and extended Crosshouse Primary, Communication Centre and Early Childhood Centre opened to children and young people last September and they are thriving in their new surroundings. Catrine and Fenwick Early Childhood Centres extensions and improvements have been completed and the children love their new learning spaces. The new Netherthird Primary School opened to children and young people last month. They all settled into their new surroundings very quickly and are already benefitting from the state of the art facility, which will also have significant benefits for the local community.
Ongoing investment continues with projects that are under construction or at an advanced development stage including Dunlop Primary extension and Early Childhood Centre, Stewarton Academy extension, St Sophia's Primary School refurbishment and the new Doon Valley Community Campus.
Councillor Douglas Reid, Leader of the Council and Spokesperson for Regeneration said: "The Learning Estate Management Plan, which sets out investment priorities for our Learning Estate, has had a positive impact on communities across East Ayrshire. Since 2012, over £231m of new and updated facilities have been opened including the extensive refurbishment and extension of Loanhead Primary; the refurbishment and extension of Crosshouse Primary; the new Netherthird Primary and of course the extensive works connected to our early years improvement programme including Catrine and Dalmellington Early Childhood Centres.
"Looking to the future, our transition to Net Zero is well underway. The extensive refurbishment of St Sophia's Primary will be sector leading, delivered to the Passivhaus standard and the first Enerphit primary school in the UK.
"Carbon reduction is a priority for the Council and the new Doon Valley Community Campus will be an example of how learning estates across Scotland can deliver low carbon solutions. I know that both of these projects are attracting considerable interest from local authorities across the country and that they are being followed closely by Scottish Futures Trust and Zero Waste Scotland.
"Our children and young people are our future and we are committed to ensuring they have the facilities that will help them reach their full potential. I have had the privilege of viewing all of our new and refurbished facilities. Talking to the children and young people really hits home the positive impact of our extensive building works are having. I am very proud of what we have achieved to date and give a commitment that we will continue to be ambitious for our children and young people and our communities."