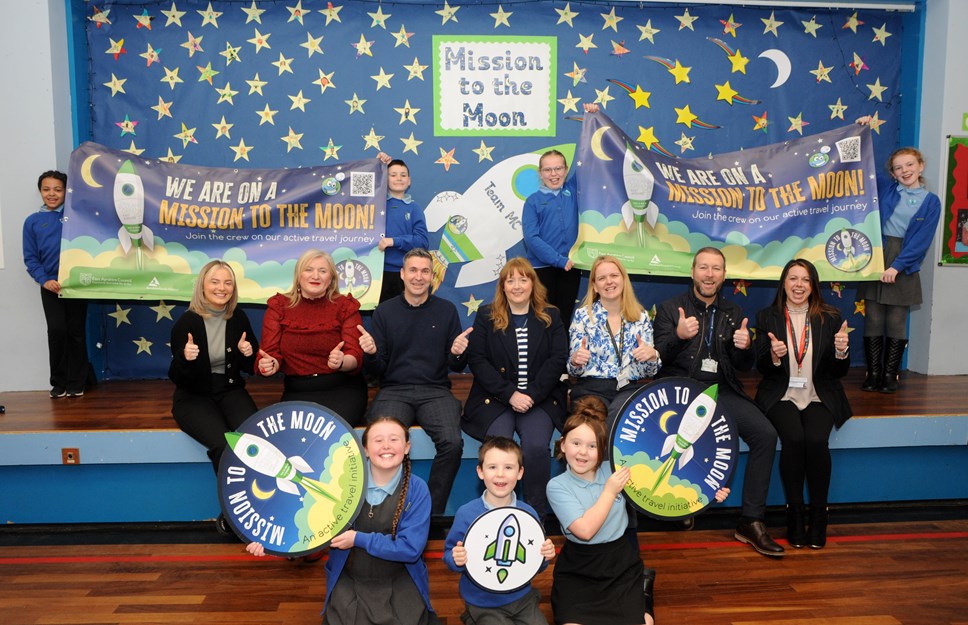 Mission to the Moon launches!
Mission to the Moon, an active travel initiative, has officially launched at Mount Carmel Primary School.
Led by Education, the initiative is funded by the Climate Change Fund and supported by the Ayrshire Roads Alliance. 22 primary schools across East Ayrshire have signed up to helped launch a Clean Green, environmentally friendly rocked powered by S-Miles (school miles). All the school participating will try and earn 238,855 S-Miles to power the rocket from Earth to the Moon.
Each Active Traveller crew can earn S-Smiles by walking, cycling or scooting to school; parking and striding or walking the S-Miles circuit within their school grounds.
The schools have set a target destination that can be anywhere in the world, for example their school to Edinburgh Castle, their school to Disney World or any chosen starting point and destination, like John O'Groats to Land's End. They have all worked out the number of S-Miles needed to get there and set a target time.
At Mount Carmel, the Eco Committee namely – Charlie and Eddie from P4, Myaa and Vivienne from P5, and Carrie-Ann, Hannah and Sophia from P6 - decided the school would walk the length of the Zambezi River, which is 1599 miles and they hope it will take three weeks to achieve this ambitious target.
Councillor Elaine Cowan, Spokesperson for Lifelong Learning, Education and Skills and Culture was joined at Mount Carmel Primary by Councillor Graham Barton, our Climate Change spokesperson and Linda McAulay-Griffiths, Chief Education Officer and Head of Education. Cllr Cowan said: "Mission to the Moon is a brand new and inclusive active travel initiative that has launched in our primary schools. All children, young people and teaching staff can earn S-Miles by walking, scooting or parking and striding to school and parents, carers and siblings can also join in earning bonus S-Miles by walking to school. Crew members who take part in the Daily Mile also earn bonus S-Miles.
"Mission Control will keep a tally of every S-Mile earned, will record it on the S-Mile-ometer, which will add power to the Clean Green Rocket, and they will issue monthly updates to schools.
"It was great meeting the Eco Committee from Mount Carmel Primary school who gave a very professional presentation, explaining the initiative and answering any questions that we had. I can confirm that, after hearing such enthusiasm from the children and young people, Mission to the Moon is out of this world."
Councillor Graham Barton said: "It was great to visit Mount Carmel Primary School and hear from the children and young people about Mission to the Moon. The active travel initiative is funded by the Climate Change Fund and encourages children and young people to walk to school with the aim of reducing carbon emissions and congestion at our school gates.
"Unlike other similar active travel initiatives, Mission to the Moon is inclusive. By creating an S-Miles circuit within each school everyone, regardless of ability or personal circumstances, can do their bit to earn S-Miles. And of course we are roping in parents, carers and siblings who can earn bonus S-Miles by keeping active.
"The Eco-Committee at Mount Carmel Primary did a fantastic job explaining the initiative to us all and were full of enthusiasm. I was feeling really positive that we were going to reach the Moon by the summer holidays, after my visit to Mount Carmel, and my first update from Mission Control has made me feel even more positive. In the first week, an incredible 13,424 S-Miles have been earned by all the Active Traveller crews - well done everyone!"