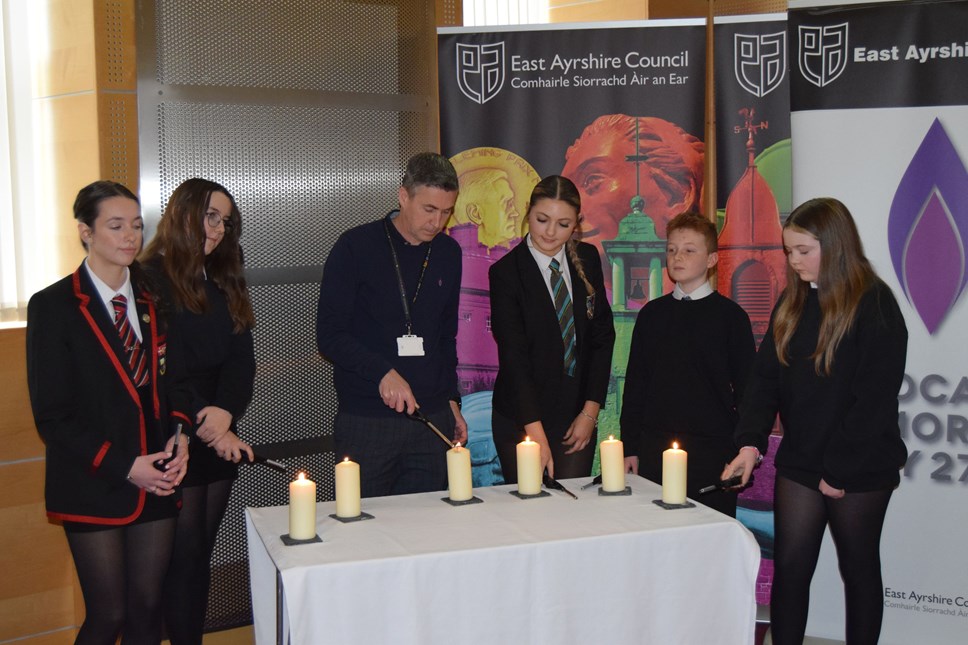 Pupils help to mark Holocaust Memorial Day
Local pupils helped to remember the 'ordinary people' who were involved in all aspects of the Holocaust and subsequent genocides as part of an event to mark Holocaust Memorial Day.
Pupils from Doon, Grange, Kilmarnock, St Joseph's and Stewarton Academies lit candles and held a minute's silence at Council HQ in memory of all those who lost their lives during the Holocaust, Nazi persecution and in genocides in Cambodia, Rwanda, Darfur and Bosnia.
With the theme of this year's Holocaust Memorial Day being 'Ordinary People', pupils gave well-researched presentations on what they have learned about the experiences of people who survived the Holocaust and other genocides.
Councillor Graham Barton, Cabinet Member for Equalities and Inclusion, said: "Holocaust Memorial Day presents an opportunity for people from all backgrounds to come together to learn from the past and to create a better future. It serves as a reminder that all of us not only have the ability to resist the forces of hatred – we have a responsibility to do so.
"My thanks go to all of the pupils who made the event so special. It's reassuring to know that young people are still learning lessons from the Holocaust and that they're able to share their experiences with others. In the words of Holocaust survivor Gena Turgel MBE: 'We will continue to do our bit for as long as we can, secure in the knowledge that others will continue to light a candle long after us.'"
ends