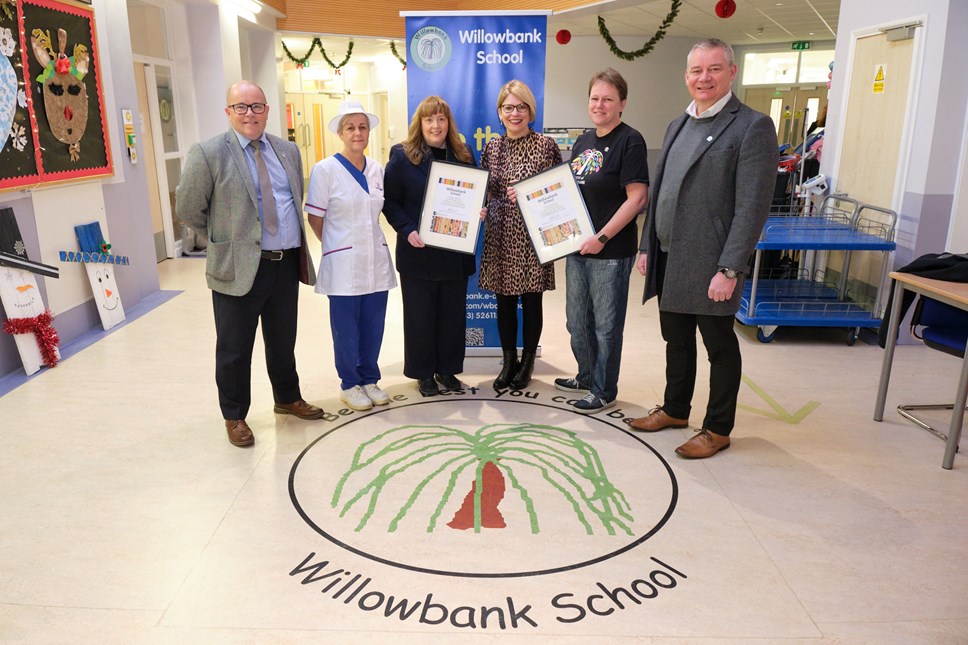 Willowbank School achieves Allergy Aware status in East Ayrshire first
Willowbank School in Kilmarnock has become the first school in East Ayrshire to achieve Allergy Aware status as part of a new allergy awareness initiative developed by Catering Services, Health and Safety, and Educational Services.
Across East Ayrshire, there are over 800 children and young people attending our schools who have an allergy or intolerance to food and there is a greater requirement for menus to be adapted to support access to safe, nutritional and healthy meals for all.
Catering Services and the Health and Safety team worked together to develop the allergy awareness initiative. They consulted with Head Teachers, and parents and carers of children and young people with food allergies to ensure that their views informed the initiative.
Councillor Elaine Cowan, Cabinet Spokesperson for Lifelong Learning, Education and Skills and Culture said: "There has been an increase in awareness around the severity of food allergies in recent years. Tragic cases like that of Natasha Ednan-Laperouse, who died after suffering a severe allergic reaction to sesame that wasn't listed on ingredients in a sandwich, has led to Natasha's Law. This law now requires full ingredients labelling on all pre-packed for direct sale foods.
"The Council has also seen an increase in the number of children and young people with food allergies and intolerances attending our schools, which led Catering Services and Health and Safety, in partnership with colleagues from Education, to develop what we believe to be the first food allergy awareness initiative in Scotland.
"As part of the initiative an audit was designed that helps to establish if a school meets the extensive criteria to achieve Allergy Aware status. Willowbank School is the first school in East Ayrshire to achieve this status and I was delighted to attend the school and present Head Teacher Tracy Smallwood with an Allergy Aware certificate."
Willowbank School Head Teacher, Tracy Smallwood said: "Willowbank staff are committed to ensuring the wellbeing needs of all pupils are met. I'm very proud of the recognition for our catering and school team."